B-School Summer Camp Schools English Majors in Corporate Thinking
by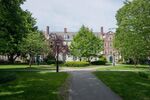 Last week, Harvard Business School finally opened its arms to undergraduates for its first dip into online education. The CORe program, which stands for Credential of Readiness, will offer three online classes this summer to college students without a business background. The nine-week program is part of HBS's broader online venture, HBX, and will teach business analytics, economics, and financial accounting.
The June 11 launch represents HBS's deepest dive into a boutique corner of the business school world. Other top B-schools also teach summer business modules, sometimes called bridge programs, to feed the growing demand for business education among liberal arts undergraduates.
The program will allow students to mark their résumé with the Harvard brand and test drive an MBA, giving them an advantage if they decide to pursue a full business graduate degree, says Jana Kierstead, executive director of HBX.
What programs like Harvard's won't necessarily do is help a student get admitted to an MBA program. Dan Bauer, chief executive officer of an admissions consulting firm, MBA Exchange, says he sees few clients that went through summer business programs such as those offered at New York University's Stern School of Business or Chicago's Booth School of Business. "To me, the real value of these programs would be someone coming out of a non-business background who wants to validate whether a business career is for them. That's a higher value than a bridge to applying to a top MBA program," he says.
At Dartmouth's Tuck School of Business, a summer bridge program that started in 1997 has "doubled down" on career development instead of MBA training, says Robert Hansen, a faculty director of the program. About 20 percent of students in the program end up applying to Tuck for an MBA "four or five years down the road," he says, but the program devotes only one optional session to admissions information.
"These are liberal arts kids who didn't know what cash flow was," he says, so the most they can do is give them basic business skills and connect them with employers. The program's student make-up is skewing younger and younger, Hansen adds, with more college sophomores using the program to help lock up junior summer internships.
Students at liberal arts colleges feel an extra push to widen their academic skills if they suspect the curriculum at their home schools doesn't have a real-world application. To meet demand, Tuck will also add a winter version of the bridge program this year. "Today there's really screaming need," he says. "My sense is that this is a very large market."
Despite schools' reluctance to bill bridge programs as MBA prep, parents shell out for their kids to attend—both virtually and in the flesh. Four weeks at Tuck sets students back $10,200, though financial aid is available. North Carolina's Kenan-Flagler Business School offers a six-course online program similar to Harvard's that charges $2,500 without financial aid offerings. A face-to-face program at Booth costs $6,300 , with "limited merit-based scholarships" available. CORe's $1,500 tuition is comparatively modest by design. HBS wanted to differentiate itself from "some programs out there that are quite pricey," says Kierstead.
The programs are a modest moneymaker for schools. At the Kenan-Flager, the year-round "business essentials" online program for liberal arts undergraduates boasts an 85 percent completion rate for the 1,100 students who have taken part since 2009, says Susan Cates, president of executive development at the college. That means the program has generated about $2.75 million in revenue for the school, and Cates says it is now profitable after a "meaningful" initial investment.
"We fully agree with HBS that this is a market that needs serving," Cates says. "I'm a big believer that more competition in the market makes everybody better, so I see it as a net positive to broadening awareness around these types of programs."
Before it's here, it's on the Bloomberg Terminal.
LEARN MORE