Dispatch from Donetsk: Bodies in the Street, Gunshots at Night
By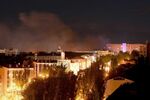 Just a year ago, Donetsk was an ordinary Ukrainian city. People would stroll down Pushkin Boulevard, where the cafés were packed and sidewalk musicians serenaded passersby. Now Pushkin Boulevard is always empty. Sometimes you can see dead bodies there. That was the case on June 7, when the aide of self-proclamed governor Denis Pushilin was killed near the Millenium restaurant.
Every night in the city, people can hear gunfire and explosions. Inhabitants have created online groups, where they discuss dangerous locations and share their impressions about ongoing skirmishes between pro-Russia separatists and pro-Ukraine forces. People try not to go outside if it's not necessary.
One part of the city's' population sympathizes with the rebels and the mercenaries from Russia who support them. Another part supports the Ukrainian army and waits for its arrival in Donetsk. Those who support Ukraine and its army live in fear. If one of the neighbors is a separatist and suspects the family next door is pro-Ukraine, that family may get a visit from the pro-Russia militia.
Horror stories about abducted people are often posted on the Internet, but it's hard to say which ones are true. A sample: "Two of my friends were walking down the street, talking politics. Someone overheard them and thought they were spies. Unknown people caught them and took them away. I don't know where they are. What should I do to help them?"
People disappear every day. On Friday, June 6, two supporters of Donetsk Euromaydan [the political revolution that started in Kiev and eventually overthrew the government] went missing. Their names are Oleg Zhelnakov and Dmitry Verzilov. Their relatives say that Dmitry and Oleg are now in the Ukrainian Security Service building occupied by the pro-Russia separatists.
Pro-Ukraine citizens of Donetsk are trying to leave the occupied city. So are the supporters of annexation by Russia. Both groups fear the city will be bombed by aircraft and shelled by artillery. Panicky reports that the Ukrainian army is approaching are constantly broadcast over the radio. On the captured Donetsk TV channel, separatists report about possible artillery bombardment of the city in the near future.
According to the Donetsk regional administration, nearly 15,000 people have already left the city. They went to other regions of Ukraine, while some of then went to Russia. Most of these people will come back when everything calms down, but some say they will not return to the region.
"Our children have changed," says Donetsk journalist Eugene Shibalov. "Now they are like small adults. They do not act up. They became quiet and obedient. When they hear the hum of an airplane engine in the sky, they get out of the sandbox, peel off the swing, collect their toys, and run home."
Shibalov is one of the few journalists who has remained in Donetsk. Most left after threats against the press started. Last week the separatists broke into the offices of the newspapers Donbass and Evening Donetsk and demanded that the journalists write only about the "heroic struggle" of the Donetsk republic. Journalists refused to work under such rules and stopped publishing the papers.
Ukrainian television crews don't work in Donetsk any more, since almost all journalists were evacuated to Kiev. Ukraine-language television in Donetsk was shut off. Television is now broadcast in Russian.
In social networks, city inhabitants discuss the location of separatist checkpoints on the roads around Donetsk in order to avoid them in their flight from the city. It is dangerous to go through the checkpoints: Guards there can take away your car. Now checkpoints are on almost all the roads heading out of town, but a few ways are still available. Those who know them use the safe roads. Getting train tickets to get out of town is now extremely difficult. Residents of Donetsk understand that war can be long. And it's better to live elsewhere while it rages.
Before it's here, it's on the Bloomberg Terminal.
LEARN MORE