Argentina Is Rebuffed by U.S. Supreme Court. Now What?
By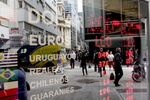 The U.S. Supreme Court didn't yield an inch to Argentina today, declining without comment to hear the country's request for relief from insistent bondholders. As Bloomberg News reports, the high court left intact lower-court rulings that may force Argentina to pay billions of dollars to holders of bonds that the country has tried to repudiate.
The case has far-reaching implications for any other country that seeks to reduce or stretch out payments on foreign debt. "I'm reeling a little bit. … It's clearly the worst possible outcome," says Eric LeCompte, executive director of Jubilee USA Network, the U.S. affilate of a global network of religious and other organizations that says it has helped win more than $130 billion in debt relief "to benefit the world's poorest people."
"it is a pretty remarkable precedent for the U.S. to allow a lower court judge to push around a sovereign nation," says Karen Hooper, director of analysis for Latin America at Stratfor, a geopolitical intelligence firm. Says Hooper: "The fact that U.S. courts are saying, 'No, you can't default' obviously has to change the landscape for U.S. debt markets."
For Argentina itself, the implications are mixed, says Gabriel Torres, an economist for Moody's Investors Service, the bond rating company. On one hand, Torres says, "Argentina, yet again, seems to be the one major Latin American economy that can't seem to get beyond its bad history of debt paying." On the other hand, Torres says, even if Argentina does default, it probably wouldn't be as bad for the Argentine economy as the massive $95 billion default in 2001, because the country is far less dependent now on inflows of foreign capital. "We don't see that this by itself will create a major crisis."
Argentina has given conflicting signals about what it would do if the Supreme Court refused to hear its case, as it now has done. In court filings, the Argentine government has said it would comply with lower-court rulings. But in public pronouncements, Argentine President Cristina Fernández de Kirchner has vowed not to pay a group of creditors she has referred to as "predators."
The inaction by the Supreme Court is a victory for the minority of investors, led by a hedge fund controlled by billionaire Paul Singer, who have refused to exchange their defaulted bonds for about 30¢ on the dollar. Argentina claimed that lower-court rulings misread Argentina's bond agreements and violated its immunity as a sovereign nation.
Argentina must now comply with a lower-court order to pay the holdouts in full before it makes payments on a separate $24 billion in restructured debt. The country could try to negotiate a settlement, a step it so far has refused to take. Or it could pay Singer's fund and other holdouts. But Argentina says it can't afford to pay both sets of bondholders.
Here's the background, as summarized by Bloomberg News:
"The dispute revolves around Argentina's 2001 default on a record $95 billion in debt. The country offered to substitute lower-value bonds in 2005 and made a similar proposal in 2010. Owners tendered about 92 percent of the outstanding debt.
"Singer's NML Capital is among the investors that refused the exchange. Argentina calls those investors 'vultures' because they bought many of the bonds post-default at a discount, angling to eventually collect a windfall.
"NML, an affiliate of Elliott Management Corp., sued to collect the full amount. NML said an equal-treatment, or "pari passu," clause in the bond agreement bars Argentina from treating the restructured securities more favorably than the defaulted bonds.
"A federal trial judge agreed with that argument, as did the New York-based 2nd U.S. Circuit Court of Appeals in two rulings.
"Argentina urged the Supreme Court to ask New York's highest court whether that interpretation is correct under state law. The country also contended that the orders violate a federal sovereign-immunity law by dictating what the country must do with property located outside the U.S."
Before it's here, it's on the Bloomberg Terminal.
LEARN MORE