Republicans Say Obama Needs to Act Against Iraq Militants
David Lerman and Greg Giroux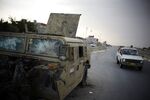 Republican lawmakers accused President Barack Obama of moving too slowly against the Islamic militant group threatening to topple the government of Iraq.
"Get into the game, Mr. President," said Senator Lindsey Graham, a South Carolina Republican on the Armed Services Committee, who spoke today on CNN's "State of the Union" program. "Get involved with air power, stop the march toward Baghdad."
As Obama weighs his options and sends an aircraft carrier into the Persian Gulf, the militant Islamic State in Iraq and the Levant, known as both ISIL and ISIS, captured northern cities on its way toward Baghdad, as the country risks sliding into civil war.
"You have an al-Qaeda army on the move," Representative Mike Rogers, the Republican chairman of the House intelligence committee, said on "Fox News Sunday" today. "This is as dangerous as it gets."
Obama, who has ruled out the use of U.S. ground troops in Iraq, said any military action would hinge on securing commitments by the Shiite-led government of Prime Minister Nouri al-Maliki to reconcile with disaffected Sunni and Kurd minorities.
"The United States is not simply going to involve itself in a military action in the absence of a political plan by the Iraqis that gives us some assurance that they're prepared to work together," Obama said June 13 at the White House.
Rogers, of Michigan, said setting such a condition "certainly appears to be an excuse" by Obama to delay or avoid a military response.
'Too Late'
"It's too late to have long political reconciliation meetings that will last weeks or months to get through even the finest points of difference," he said.
Graham said Obama should change his position.
"The stubborn-headed president we have, who thinks he knows better than everybody else, who withdrew troops and exposed this country to the inevitable, needs to change his policies quickly," Graham said.
Tom Donilon, Obama's former national security adviser, said Maliki should be blamed for not creating an inclusive government over the last two and a half years, since U.S. forces left Iraq at the end of 2011. The U.S. sought to get a security agreement from the Iraqis to extend its military presence "and they wouldn't provide it," Donilon said on CBS's "Face the Nation" program.
"We need to stop this," said Representative Michael McCaul, the Republican chairman of the House Homeland Security Committee. "But the action needs to be now, not two weeks from now," the Texas congressman said on ABC's "This Week" program.
Even as they urged fast action, they were less clear about precisely what Obama should do. McCaul said the president should "get a team of experts together" to devise a plan, which is essentially what Obama's national security team is doing now.
Rogers said the U.S. should "engage with our Arab League partners" and conduct "disruption activities in Syria with the al-Qaeda elements in eastern Syria as well in Iraq."
Before it's here, it's on the Bloomberg Terminal.
LEARN MORE