Medtronic Said Looking to Cut Taxes With Covidien Deal
David Welch and Michelle Fay Cortez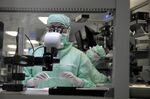 Medtronic Inc., the world's No. 2 medical device maker, is negotiating to buy Dublin-based Covidien Plc for more than $40 billion, a person familiar with the talks said, in what may become the latest deal driven by potential tax savings from relocating overseas.
The transaction may be structured as a tax inversion, allowing Medtronic to move its legal residence to Ireland, the person said. There have been about 44 inversions done so far, according to data compiled by Bloomberg. The pace has picked up since January 2012, with more than a dozen such deals, even as the U.S. Congress considers measures to stop the exodus.
Medtronic is holding more than $14 billion in cash, most of it outside the U.S. since it doesn't pay taxes until it brings profits back into the country. The Minneapolis-based company, second only to Johnson & Johnson in medical-device sales, is often cited as a potential acquirer of health-care competitors based in low-tax countries like Ireland and the U.K.
"At its investor day, Medtronic officials specifically said they wouldn't do a deal just to be structured as an inversion," said Jason McGorman, an analyst at Bloomberg Industries in Skillman, New Jersey. "It would be interesting to see what they say if they do this deal."
Lisa Clemence, a Covidien spokeswoman, and Cindy Resman, a spokeswoman for Medtronic, declined to comment on the deal, which was first reported yesterday by the Wall Street Journal.
Covidien fell less than 1 percent to $72.02 on June 13 in New York. Medtronic fell less than 1 percent to $60.70. The shares of both companies have risen 5.8 percent this year.
Tax Rates
Covidien has a market value of $32.5 billion, based on its closing stock price. The acquisition, which could be announced as soon as tomorrow, could help Medtronic reduce its corporate tax rate and give it lower-cost access to money held outside of the country.
The U.S. has the world's highest corporate tax rate, at 35 percent. It also taxes profits made elsewhere, after taking into account foreign levies, once the money is brought back into the country.
Medtronic could be interested in Covidien to help it take advantage of changes under way in the U.S. health-care system. Medical-device companies are banding together to provide a comprehensive set of products and services to hospitals, which are cutting costs as the U.S. Affordable Care Act takes hold.
Medtronic and the French drugmaker Sanofi announced earlier yesterday that they will work together on ways to make it easier to treat diabetes, one of the fastest-growing medical conditions, as health-care companies try to move into new areas.
Tax Inversion
Medtronic sells pacemakers and defibrillators to regulate the heart's electrical activity, stents to prop open clogged arteries, as well as devices for diabetes and the spine. Covidien makes health-care products including surgical staples, feeding pumps, ventilators and devices to treat plaque buildup.
There isn't much overlap between the two companies, McGorman said in a telephone interview.
"To me it doesn't fit what they have listed as criteria" for an acquisition, he said. "The opportunity for synergies would be smaller than in typical M&A transactions."
McGorman said Covidien has a more diverse group of product categories to sell to hospitals, though it's not a high-growth business.
Cash Reserves
Most of Medtronic's billions in cash is held outside the U.S., an issue acknowledged by Chief Executive Officer Omar Ishrak. He has advocated U.S. corporate tax reform that would allow the company to bring the money back into the country without paying such a high tax on it.
Ishrak has said the company wants to expand its offerings globally and in the areas of heart, muscle, skeleton and diabetes products. While he has traditionally said he would be very disciplined with acquisitions, and not enter into deals that would dilute earnings per share, he recently eased those rules.
"There will be times when we will have dilutive earnings per share for whatever reason," he said at the Goldman Sachs Global Healthcare Conference on June 10. "What that would mean is that we'd have to sell it to our shareholders and make sure that our shareholders understand that this is the right thing to do."
Before it's here, it's on the Bloomberg Terminal.
LEARN MORE