Lupin Seeks Europe Generics Acquisitions Up to $1 Billion
Ketaki Gokhale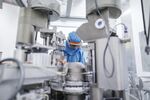 Lupin Ltd., the drugmaker founded by Indian billionaire Desh Bandhu Gupta, is seeking to build its business in Europe by acquiring generics manufacturers for as much as $1 billion.
Lupin is looking for companies with capabilities in complex generics like inhalation products and injectables, dermatology products, and biosimilar drugs, Chief Executive Officer Vinita Gupta said in a phone interview.
Europe is attractive because it has clearer regulations than the U.S. on biosimilars, or copies of biotechnology therapies. Europe contributed 3 percent of Lupin's sales last year, while competitor Ranbaxy Laboratories Ltd., which agreed to be acquired by Sun Pharmaceutical Industries Ltd., earned about 24 percent of revenue from the region.
"In the U.S., we have a very strong footprint," Gupta, the founder's daughter, said in a telephone interview from the company's U.S. office in Baltimore. "In Europe, we are really small. So we have a focus in looking at building a specialty presence as well as a generics presence."
Lupin shares rose 0.3 percent to 986.60 rupees as of 9:41 a.m. in Mumbai. The Benchmark S&P BSE Sensex fell 0.4 percent.
Russia, China
In addition to specialized drugmakers with markets in Western Europe, Mumbai-based Lupin is looking for companies that give it access to generic markets in Russia, China and Brazil. It also wants "larger, transformational assets" that give access to multiple geographies as well as additional manufacturing capability, Gupta said.
The company is willing to spend $50 million to $1 billion, she said.
Lupin this year announced acquisitions of Nanomi BV, a Netherlands-based company with technology to develop complex injectables, and Laboratorios Grin SA de CV, a Mexican manufacturer of ophthalmic products.
Since 2007, Lupin has acquired nine other brands and companies, including Tokyo-based generic injectables manufacturer I'rom Pharmaceutical Co., according to data compiled by Bloomberg.
Lupin had cash and near-cash items of about 8 billion rupees ($134 million) at the end of March. The drugmaker's shares have returned 8.6 percent this year including reinvested dividends.
Germany, France, Italy, Spain and the U.K. together make up the next biggest medicine market after the U.S., spending $148.7 billion in 2012, according to IMS Health.
'Big Five'
"In the big five markets we're looking at a portfolio of inhalation products, of complex injectables, of biosimilars," Gupta said. "We need to have entities that we can grow and build. We're looking at companies that can give us a foothold on which we can build."
Russia's medicine spending is forecast by IMS Health to grow at an annual rate of as much as 11 percent to $33 billion in 2017, compared to the global average growth rate of 3 percent to 6 percent.
"We already have a small presence in Russia and we are looking to build our presence in Ukraine," Gupta said. "We're very small there compared to what the market potential is. The Russian market continues to be a large, attractive market."
Ranbaxy's "leadership" in Russia and Romania, among other emerging markets, was cited as one of the ways Sun would benefit from acquiring the Gurgaon-based drugmaker. Ranbaxy had sales of 20 billion rupees from Eastern Europe and the Commonwealth of Independent States in the 15 months ended March, according to a May 9 statement.
In the U.S., Lupin is the sole supplier of copies of Allergan Inc.'s Zymaxid conjunctivitis medicine, and is the second-largest supplier of copies of Eli Lilly & Co.'s Cymbalta, according to a June 3 note from Barclays Plc.
Before it's here, it's on the Bloomberg Terminal.
LEARN MORE