Finland's Leader Faces Coalition Partner Hungry for Stimulus
Kasper Viita and Kati Pohjanpalo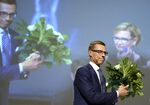 Finland's new Prime Minister Alexander Stubb faces his first test standing up to fellow coalition members the Social Democrats, who are clamoring for a boost to the northernmost euro member's ailing economy.
Stubb, elected June 14 by his National Coalition Party as Finland's next leader, will need to work with a new finance minister, former union boss Antti Rinne, who has spoken out in favor of more stimulus to rescue growth. Rinne, 51, assumed the job June 6 after becoming chairman of the Social Democratic Party, the second-biggest of five parties in Finland's ruling coalition.
"Social Democrats face pressures to shift further left while the National Coalition clearly has a desire to start implementing more right-wing policies," Mari K. Niemi, a researcher in political science at the University of Turku, said in an interview. "Both sides must bring some realism to the table."
The government's biggest challenge is to spark recovery in an economy that's lost its main growth motor. Contracting output has followed faltering exports as the nation's technology and paper industries decline. That's collided with a period of austerity policies and lost demand due to Europe's debt crisis. Since 2008, Finnish public debt has swelled 47 billion euros ($64 billion), in net terms, to a total of 110 billion euros.
AAA Safeguards
Outgoing Prime Minister Jyrki Katainen's cabinet, in power since 2011, has agreed on austerity measures totaling 6.8 billion euros by 2017, equal to about 3 percent of gross domestic product, to protect Finland's AAA rating. President Sauli Niinistoe accepted Katainen's resignation today and asked his government to continue on a caretaker basis until a new cabinet is formed this month. Katainen stepped down to become a commissioner in the European Union.
"A new recovery requires predictability and stability," Stubb, 46, said in a speech yesterday in the southern town of Lahti. "The economy sets the limits within which the government must work. Decisions that have been made have to be implemented. The government must also make new decisions with real impact to boost growth."
The Social Democrats won't be a pushover in government, Rinne said in an interview on state-owned broadcaster YLE.
"Stubb has repeatedly called on the Social Democrats to commit to the government package," Rinne said. "I hope he will keep watch that his own party doesn't rock the boat either."
Child Benefits
Rinne may not get all that he wished for: Stubb said yesterday the government must reassess its decision to extend compulsory education by one year -- something the SDP has been pushing to combat rising youth unemployment. Softening the blow, he also signaled the National Coalition may give into SDP demands to backtrack on cuts to child benefits.
The decision to reduce child benefits by 110 million euros was made in March, along with a spate of other spending reductions and tax increases, and proved unpopular with many lawmakers. The March spending limits, based on which the government will negotiate next year's budget in August, included 600 million euros in stimulus.
The current five-party government will negotiate continuing to rule together, with a preliminary meeting scheduled for tomorrow and formal talks on June 18, Stubb told reporters today. He gave no deadline for the talks.
Stubb yesterday emphasized the importance of sticking to the government's agreed framework and indicated that room may be made for economic stimulus if new savings are found elsewhere.
"The government must assess whether expenditure can be better targeted to boost growth, while keeping within the spending limits," he said. "The government has agreed on measures intended to end debt growth. This goal is not negotiable. I'm not going to be the first prime minister whose government breaches the spending limits framework."
Before it's here, it's on the Bloomberg Terminal.
LEARN MORE