Nextdoor's Tolia to Serve in Work Program for Hit and Run
Joel Rosenblatt and Sarah Frier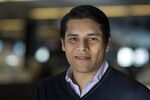 Nirav Tolia, the chief executive officer of neighborhood social website Nextdoor.com Inc., will serve 30 days in a county work program for a misdemeanor hit-and-run conviction involving a freeway accident.
Tolia, 42, was sentenced to 30 days in jail and is eligible to serve that term in the work program, according to San Mateo County District Attorney Stephen Wagstaffe's office. Superior Court Judge Jonathan Karesh also ordered Tolia to serve two years of probation, prosecutors said.
Nextdoor keeps its neighborhood networks private by verifying residents so they're comfortable sharing tips on local crime, babysitters or lawn maintenance.
The site raised $60 million in an October funding round that valued the San Francisco-based company at more than $500 million, people familiar with the matter said at the time. Investors include Kleiner Perkins Caufield & Byers, Tiger Global Management, Comcast Ventures, Benchmark, Greylock Partners and Shasta Ventures.
Tolia agreed to plead no contest on June 12 after the charge was reduced to a misdemeanor, according to Wagstaffe. While the county sheriff's office has discretion over who enters the work program, Tolia will probably qualify based on his conviction and background, Wagstaffe said.
Dan Barton, Tolia's lawyer, said the work program allows for scheduling flexibility and that participants need not work consecutive days. Eight-hour work days will be spent on projects such as maintaining roads and park land, he said.
Tolia 'Relieved'
"I am relieved that after further examination of the facts, the DA reduced the charge to a misdemeanor and that Thursday's hearing brought the matter to a close," Tolia said in an e-mailed statement.
In August, Tolia started to change lanes while driving on a freeway south of San Francisco, causing another driver to swerve to avoid a collision. That driver's vehicle spun across the road and collided with the center concrete barrier, according to prosecutors. There was no contact between the vehicles, they said.
"It was a hit and run with no hit," Barton said. Tolia didn't stop or call the police, who came to his home the same day, Barton said. Tolia said he didn't see the driver hit the median, according to Barton. The other driver broke bones in her hand, and a lawyer representing her is now seeking damages of $3.5 million in a lawsuit, Barton said.
Before it's here, it's on the Bloomberg Terminal.
LEARN MORE