pursuits
What Can Go Wrong at the World Cup? Ask the Insurance Underwriter
By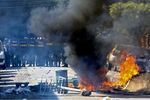 With the run-up to the World Cup in Brazil marked by protests, construction delays, and crime, perhaps nobody felt more relief at the snafu-free opening match than Munich Re underwriting manager Andrew Duxbury.
His insurance company has written policies covering $400 million in potential losses at this year's World Cup. While they are not through the woods yet—the $229 million stadium in the Amazonian jungle at which England and Italy are scheduled to play this weekend is reported to be in "bad shape"—Duxbury is feeling confident. "The noise around these events is always generated in the immediate run-up," he says. "I don't want to underestimate and belittle the issues that Brazil has—and that are manifesting themselves in these protests—but we do see it as a regular cycle."
Similar fears, Duxbury notes, marked the days before the Olympic Games in Sochi and London and the last World Cup in South Africa. In every case, there were no major disruptions. "Did we get an event?  Yes, we did. Did the athletes love it? Yes. Did the TV come in? Were we watching it? Yes, yes, yes," he says. "And I expect to see that here as well."
Munich Re is one of about a half dozen major backstops for FIFA, media rights holders, sponsors, and anybody else with a large financial stake in the World Cup. Along with competitors such as Swiss Re and Hannover Re, it sets the market for as much as $2 billion in insurance covering the event. If matches are cancelled, delayed, or interrupted by weather, violence, stadium failures—anything that falls "outside the control" of the insured—Munich Re helps cover sunk costs. This makes the company expert in everything from meteorology and crowd control to political climates and stadium construction.
In the seven years since Brazil was named host for 2014, Duxbury has led a team of roughly a dozen Munich Re employees in gaming out the universe of potential risks. The project is part modern data collection, part "old-fashioned underwriting," says Duxbury. "You know that there is an X percent chance of two inches of rain only one day in July at that venue. Would two inches cancel the game?"
This means looking at drainage plans, past cancellations, and event protocols—and even then, you never know for sure. There could be a volcanic explosion in Iceland, an event from 2010 that Duxbury remembers playing havoc across Europe. "Either the stars couldn't get there, security couldn't get there, or the audience couldn't get there," he says. "I could honestly not have imagined a volcano in Iceland could have impacted Europe for that length of time and shut our airports down."
For all Brazil's struggles since the financial crisis, the 2014 World Cup is a relatively safe proposition for Munich Re. Unlike the Olympics, which are centered in a single city, the global soccer tournament is spread throughout the country. This dissipates risk because there is no concentrated target and allowances can be made for a catastrophe at any single venue. "I have sleepless nights about London, two years later," says Duxbury, "a much more difficult risk proposition because you've got so many more moving parts, so much of a bigger organization in terms of athletes, different disciplines—all wedged into one of the world's bigger cities—and therefore notoriously difficult to tie down and make completely watertight and secure."
There will no doubt be protests, crime, planning failures, and problems from now until the World Cup final on July 13. For Munich Re, those are minor irritants. Duxbury's concern is large-scale disaster: "I'm imagining I'd be turning on the television from my living room in the evening in the U.K. going, 'O.K., now we have a real problem.' I think I'll know immediately."
Before it's here, it's on the Bloomberg Terminal.
LEARN MORE