pursuits
To Lure Travelers, Trains and Planes Start Competing on Faster Wi-Fi
By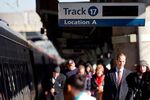 In the travel industry, the quality of Internet access on offer is quickly emerging a major way distinguish a hotel or airline. Even Amtrak, which has long been notorious for its glacial Wi-Fi, is now getting into the travel broadband race.
Amtrak is soliciting proposals for how to create a broadband network aboard its Washington-Boston trains. The railroad wants to overcome its current restrictions on bandwidth per passenger and eliminate coverage gaps on its 457-mile Northeast Corridor, the most trafficked in Amtrak's network. The goal is to boost current speeds from 10 Mbs to at least 25 Mbs and beyond—ultimately reaching speeds fast enough for streaming video.
High-speed Internet could help attract new riders and provide a new revenue stream, even if the trains travel at the same speed. Amtrak hopes to begin building a 10-mile "proof of concept" section of the new network in Delaware next year. "In today's world, people want to remain connected all the time," says Lenetta McCampbell, Amtrak's senior director of passenger experience. "And when they're traveling, that expectation is as high as it is anywhere."
The travel industry is striving to make the Internet you use at home and work the same you would encounter at 34,000 feet, in a hotel room, or riding the rails to Boston. Today, of course, most airlines suffer slow and glitchy service even as they rush to expand Wi-Fi access across their fleets. And many hotels still struggle to provide consistent access for all their rooms, weighing issues of speed and how much to charge for it. That business debate is one reason some budget chains offer free Internet access, while some expensive hotels charge dearly for it.
"It's very clear to us that [Wi-Fi] is important to people as they make their choices, particularly on longer flights," says Jamie Perry, director for product development at JetBlue Airways, which is deploying a new satellite-based broadband system from ViaSat across its fleet. That process is to be finished next year, and JetBlue will boast the fastest Internet speed in the sky, akin to a home broadband connection. Last year, ViaSat won a Guinness World Record for highest satellite throughput capacity.
So far, 49 planes have been equipped with JetBlue's FlyFi system, which was deployed in December and is now used in three of the planes with the airline's new Mint premium-service cabins. "One of the reasons we introduced [broadband] is we were losing customers on our trans-continental markets." Business travelers "couldn't justify being offline for six hours," Perry says.
The airline is experimenting with pricing, with a free level of service and one that costs $9 per hour for the ability to download video and other large files. As faster, reliable Internet expands across airline fleets, Perry and others expect a switch to more passengers who will stream high-definition video from the likes of Netflix, Hulu, and iTunes. JetBlue executives expected social media would be the most popular activity for surfers on its Internet network. Instead, Perry says, shopping is by far the favorite activity.
JetBlue's free high-speed service will be available until at least late this year. The airline plans to forge deals to sponsor some or all of its broadband access, given operating costs involved in a highly used service capable of giving nearly 200 passengers on its Airbus planes access at the same time. A paid level of service is likely to remain part of the mix, although Perry strongly hints that the airline wants to keep some free option available.
Over time, airlines and trains—as well as the new bus upstarts that are luring budget-minded travelers—will likely need to upgrade their Internet offerings. Travelers won't settle for a horrible experience, just as most Americans have ditched dial-up service and 300-pound console TVs. Says Perry: "Starbucks have done a fantastic job over the years persuading people that Internet access is basically costless and reliable and should be an expected amenity in the same way as bathrooms and drinking water."
Before it's here, it's on the Bloomberg Terminal.
LEARN MORE