Three Concerns About Pakistan's Strange and Bloody Spring
By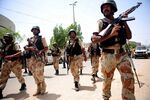 This has been a strange and bloody couple of months for Pakistan, a nation not known for its calm. With U.S. forces set to draw down in Afghanistan before leaving completely by the end of 2016, Pakistan will continue be in the headlines—for better or worse.
And as recent events in Iraq remind us, regional instability in the wake of military withdrawal can lead to disastrous results.
Three things to watch:
1.Relations with India are improving. But trouble looms.
India's new Prime Minister Narendra Modi is a Hindu nationalist who, as chief minister of Gujarat, presided over a state where anti-Muslim riots killed about 1,000 people in 2002. Still, to the surprise of many, Modi invited Pakistani Prime Minister Nawaz Sharif to attend his inauguration in New Delhi, and Sharif accepted. (There is a precedent here: A former prime minister from Modi's party signed a declaration with Sharif in 1999 calling for peace.)
The two men met the day after the May 26 ceremony. Modi followed up by sending a shawl to Sharif's mother, and Sharif reciprocated with a white sari for Modi's mother.
These are small gestures, perhaps, but public ones. For a relationship as fraught as that of India and Pakistan's, two nuclear powers that have fought wars in the past, it is an encouraging sign.
Not everyone was pleased. In particular, Hafiz Muhammad Saeed, the founder of Lashkar-e-Taiba (LeT), a violent militant group that opposes Indian control of Kashmir, criticized Sharif in comments carried on his Twitter account:
Saeed's LeT has been accused of carrying out the 2008 attacks on Mumbai, killing more than 160 people. It denied those allegations, as well as a more recent accusation by Afghan President Hamid Karzai that it attacked the Indian consulate in Herat just a day before Sharif confirmed his trip to New Delhi.
Saeed, on whose head the U.S. has put a $10 million bounty, lives in the Pakistani city of Lahore, where he gives interviews and attends rallies.
2. Pakistan looks increasingly unable to maintain peace at home.
The narrative in the region has long been that Pakistan's Inter-Services Intelligence agency (ISI) uses proxies to counter the influence of rivals, such as the U.S. and India in Afghanistan. But in recent years, militants in Pakistan have been waging war against … Pakistan.
For instance, men with rocket launchers recently unleashed an assault on the airport of Karachi, the nation's commercial capital, sending smoke and flames billowing into the sky and leaving 36 people dead. Gunmen came back the next day for a second attack, this time on the airport security's residential area. That is more than a terrorist act; it is a declaration by extremists that they can hit any target at any time.
The assault appears to have been a joint effort by the Pakistani Taliban and the Islamic Movement of Uzbekistan, two of the intertwined militant groups operating in the country.
It is difficult to predict what that might mean. A massive crackdown on militants? A destabilized nuclear nation on the borders of Afghanistan and India? Pakistani agencies deciding the best way to deflect attention from domestic tumult is to launch, through proxies, an attack on a traditional foe, such as India?
3. The possibility of more public pressure on those of whom we do not speak—with dangerous results.
For most in Pakistan, the ISI spy agency is so powerful that it is something to avoid as a topic of conversation.
But in April, a talk show host for Pakistan's Geo TV named Hamid Mir was shot six times by a gunman who fled by motorbike. Mir survived and, in the aftermath, spoke about the ISI in a manner to which the ISI is unaccustomed.
As noted by my colleagues in Karachi:
"Some Pakistani intelligence officials visited Mir before the attack and told him that his name was on a 'hit-list' of journalists, Mir said yesterday in an e-mailed statement issued by his employer. 'I had told them that in the present circumstances, I fear the biggest threat came from the ISI.'"
The controversy that followed led to public discussion of the agency, backlash, and then, finally, a two-week shutdown of Geo this month.
The ISI was unhappy about the Geo episode. It might also have been chagrined about the nation's leader visiting the prime minister of India. And the growing domestic insurgency threatens to raise questions about the militant groups that the intelligence agency supported in the past.
After the airport attacks, Hafiz Saeed had this to say:
Before it's here, it's on the Bloomberg Terminal.
LEARN MORE