The World's Best Bartenders on What Should Be Your Signature Drink This Summer
by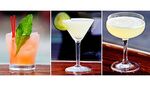 What should you drink on a sweltering summer day? Water is the wisest choice but it's also the dullest. For something with a little more flair (not to mention alcohol) to use as a go-to this season, we turned to some of the world's best bartenders. Mix up one of these drinks and get ready to cool down.
The Ada Rose
Who: Chris Marshall, head Bartender atApotheke in New York.

½ oz simple syrup

½ oz lime juice

2 oz watermelon juice

2 oz tequila

How: Shake it with ice, and serve it on the rocks, then garnish with a basil leaf.
Why: "Everything about it is so summery," Marshall says. "It's a rounded taste that stays in your mouth."
The Garden Fizz
Who: Maxime Hoerth, Chef Barman at Le Bar du Bristol at the Bristol Hotel in Paris.
2 oz gin

1 oz lemon juice

1 oz sugar syrup

3/4 oz egg white

2 slices of cucumber

A few basil leaves

How: Crush the slice of cucumber in a shaker, add ice and the rest of the ingredients, then shake. Pour it into a cocktail glass using a strainer, then garnish with a slice of cucumber.
Why: "The perfect summer cocktail has to be thirst-quenching" says Hoerth. "The secrets to get this result are fresh fruits and/or effervescence."
Paris Is Burning
Who: Leo Robitschek, beverage director at theNoMad Hotel in New York.
1/4 oz sugarcane syrup

1/2 oz St-Germain liqueur

1/2 oz lemon

1 oz pineapple

1 oz sombra mezcal

1 oz Beefeater gin

How: Shake the ingredients together, then strain into an all-purpose coupe.
Why: "Light, refreshing, tasty – perfect to sip on a hot day!"

(L to R: The Avenue, the Summer Call, and the classic Tanqueray and tonic.)
The Avenue
Who: Katheryn Weatherup, owner of Weather Up bar in New York.
3/4 oz fresh lemon juice

3/4 oz passion fruit syrup

1/2 oz Cocchi americano

1 1/2 oz repasado tequila (although blanco would be fine)

1 bar spoon of calvados

How: Shake everything but the calvados on ice, add a final bar spoon of calvados to the top, then serve.
Why: "You have a tart, refreshing, seasonal cocktail that still manages to be a bit profound. Perfect for drinking outside."
Summer Call
Who: Francesco Erriu, manager of The Blue Bar at the Berkeley Hotel, London
1 1/3 oz Ketel One

¾ oz Antica Formula vermouth

1 ¾ oz watermelon Juice

1/3 oz lemon Juice

1/3 oz sugar

3 coriander leaves

How: Shake the ingredients with ice, pour into an iced martini glass, and garnish with the coriander leaves
Why: "The refreshing watermelon and herbal coriander result in a bittersweet taste of summer."
Classic Tanqueray and Tonic
Who: Jim Meehan, managing partner of Please Don't Tell (PDT) in New York and drinks editor at Tasting Table .
2 oz gin

2 oz tonic (Q tonic preferred)

1 lime

How: "Don't make this drink by eyeballing it," Meehan says. "Most people pour in a slug of gin, add ice, and then fill the rest of the glass with tonic. As simple as it sounds, you actually have to pay attention to the details and measure it out."
Why: "It's a really easy drink to prepare but it's actually so refreshing. Certainly there are more elaborate options," Meehan says. "But why make it more difficult than it has to be?"

(The classic dry martini and the Balfour)
Classic Dry Martini
Who: Guillaume Le Dorner, bar manager at 69 Colebrooke Row in London

1 ¾ oz (50 mls) Beefeater gin

½ oz vermouth

1 olive

How: "It seems like the simplest thing to do but it's actually the hardest," Le Dorner says. "The thing to do is get it as cold as possible, but don't shake it—it's a violent process and they're two fragile ingredients."
Why: He calls it a "refreshing taste of manhood." Even if the taste of manhood isn't your thing, the refreshing part is just the trick.
The Balfour
Who: Denis Broci, manager at Claridge's Bar at Claridge's Hotel in London
1 ¾ oz Botanist gin

¾ oz Aperol

1/3 oz lavender syrup

1 lemon wedge

1 pink grapefruit wedge

1 drop of Paychard Bitters

How: Blend ingredients with a small scoop of crushed ice and strain them into a frozen glass. The drink should be served without ice.
Why: "Light, floral flavors and the uplifting aromas of Aperol and pink grapefruit are what makes this drink the must-have for summery days."
Before it's here, it's on the Bloomberg Terminal.
LEARN MORE