The Good News for Job-Seekers in One Chart
By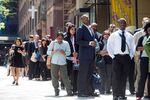 As the U.S. economy slowly heals, the reserve army of the unemployed is shrinking. As this chart shows, the number of people available per job opening has shrunk dramatically since the peak of unemployment five years ago. (Credit for this observation goes to Torsten Slok, the chief international economist at Deutsche Bank Securities in New York, who pointed it out in a recent research note.) 

To show the number of people available per job opening, the chart combines two groups: the officially unemployed, plus people who aren't in the labor force but want a job now. Those two groups are divided by the total number of job openings, which comes from the "Job Openings and Labor Turnover Survey" of the Bureau of Labor Statistics.
It's a matter of debate whether all the people who say they want a job now should be counted as potential workers. The Bureau of Labor Statistics counts 7 million people in May as being out of the labor force but telling government surveyors that they want a job. ("Out of the labor force" means they haven't actively searched for work in the past month.)
Of those 7 million job-wanters, 4 million haven't even searched actively in the past year. Of the 3 million who have, 1 million say they are "not available to work now." The remaining 2 million include people who are discouraged about job prospects; have family responsibilities; are in school or training; suffer ill health or disability; or others. My colleague Brendan Greeley recently wrote a fine post about those "others," who include people who have given up looking for work because of child-care or transportation problems.
Even if you take a narrow view of who is available to fill open jobs, though, it's clear that the surplus of out-of-work Americans is much smaller than it was in late 2009 and early 2010, a period when the unemployment rate touched 10 percent. Now it's 6.3 percent. It's taking employers longer to fill jobs because job-seekers aren't as desperate as they once were, and the duration of job vacancies is the longest since at least 2001.
Before it's here, it's on the Bloomberg Terminal.
LEARN MORE