You Buy Cars and TVs from Korean Companies. Why Not Perfume, Too?
by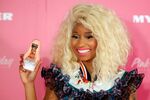 Americans and other consumers around the world are comfortable buying cars, smartphones, and appliances from Korean companies. How about makeup and perfume? We might find out soon because a South Korean company could be in the running to acquire Elizabeth Arden, the maker of fragrances and skin products based in Miramar, Fla.
LG Household & Health Care, part of the Korean group LG, has expressed interest in Elizabeth Arden, which makes perfumes under its own brand as well as celebrity fragrances such as Justin Bieber The Key, "an inspiring new fragrance that invites you to unlock the endless possibilities of believing in your dreams, bringing you closer to Justin than ever before."
Unfortunately, the Beliebers—not to mention fans of other Elizabeth Arden celebs like Britney Spears and Nicki Manaj—don't seem to be buying enough perfume to keep the company robust. Elizabeth Arden last month reported losing $26.4 million in the most recent quarter as sales fell 20 percent. Goldman Sachs is helping Elizabeth Arden explore its options, one of which is a sale to LG Household & Health Care. As Bloomberg News reports today, the Korean company is considering Elizabeth Arden but "no specific details have been determined as of now."
A deal would represent a breakthrough, not just for LG Household & Health, but for South Korea's consumer-products companies. The country's chaebol, the conglomerates that dominate the economy, have made LG, Samsung Electronics, Hyundai Motor, and Kia Motors well-known brands around the world. But when it comes to products like cosmetics, Korea is barely a factor. LG Household, for instance, "is almost pure-play Korea," says Deborah Aitken, an analyst with Bloomberg Industries. LG Household, which sells cosmetics as well as more mundane products like beverages and household cleaning goods, "is still very much a South Korean company, and none of its brands have really penetrated elsewhere."
LG Household does have the advantage of being based in the right neighborhood. Demand is growing faster in Asia than in other parts of the world, so there should be opportunities for Korean companies such as LG Household and its rival, Amorepacific, to capitalize on their knowledge of Asian consumers. The global market for beauty and personal care was worth $454 billion last year, up from $446 billion in 2012, according to data compiled by Bloomberg, and the forecast five-year growth rate is 3.6 percent. Asia accounted for $129 billion in sales last year, but the growth is much stronger, with a five-year forecast of 5.3 percent.
With the success of K-Pop and Korean TV shows all around Asia, it shouldn't be too hard for LG Household to persuade consumers in China or Southeast Asia to buy Korean cosmetics. Korea is a hot destination for Chinese tourists who are shunning Malaysia (because of the fallout from the missing Malaysian Airlines plane carrying more than 150 Chinese passengers) and Vietnam (because of a tense confrontation between the two countries over territorial claims in the South China Sea). The official China Daily newspaper reported on Wednesday that Chinese travel agencies say visits to South Korea have jumped 50 percent compared with last year.
But Bloomberg Industries analyst Aitken says a brand makeover wouldn't even be necessary if LG Household were to buy Elizabeth Arden. "They wouldn't move Elizabeth Arden to being produced out of South Korea and wouldn't be relabeling it as a South Korean brand," she says. A deal "would be about maintaining Elizabeth Arden and growing Elizabeth Arden."
Before it's here, it's on the Bloomberg Terminal.
LEARN MORE