Small Business Lenders Open Up to Cory Booker About Their High Interest Rates
by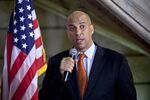 An interesting thing happened at a panel on small business lending hosted by Democratic Senator Cory Booker of New Jersey in Newark today: The chief executives of lenders known for making high-cost, short-term loans showed a willingness to discuss the interest rates they charge.
Booker, who sits on the Senate's small business committee, convened representatives from a variety of Main Street lenders, including nonprofits, online middlemen, and such new entrants as Lending Club and PayPal, which have both ramped up small business lending in the past year. Toward the end of the panel, Booker asked the participants to explain why some lenders offered "interest rates that can be up into the teens, and some can have lower rates."
Noah Breslow, the CEO of New York lender OnDeck, corrected Booker. OnDeck's typical borrower pays 15¢ on the dollar for a six-month loan, Breslow said, which works out to an effective APR of close to 60 percent. "I wanted to bring it up, because people need to talk about it," said Breslow, whose company recently disclosed that it charges annualized rates as high as 134 percent.
Next, Rob Frohwein, the CEO of Kabbage, a lender that caters to online merchants, said the rates his company charges are driven by how much Kabbage pays to borrow money. Until recently, that rate was close to 20 percent. That helps explain why a sample loan listed on the company's website carries an annualized interest rate of about 50 percent. As Kabbage itself borrows more cheaply, it cuts the rates it charges small business owners, Frohwein said.
Another panelist, Biz2Credit CEO Rohit Arora, said his company is underwriting cheaper alternative loans than competitors by cutting out the fees many lenders pay to outside brokers. None of those remarks qualify as wild outbursts of transparency, but they're relatively rare in an industry that likes to boast of its high-tech underwriting algorithms and fast approval times and keep mum on actual borrowing costs.
What small business owners should do with that information is another question. Breslow argued that the interest rate isn't the only important piece of information to small business owners considering loans and that return on investment and processing time also matter. Critics have argued that high-cost loans can help borrowers solve short-term problems but lead to big problems down the road.
One other point: Alternative lenders, which are largely unregulated, aren't bound by the same disclosure rules that banks and credit card companies are. Potential borrowers may welcome the forthrightness they showed today, but there's no government agency keeping track of the rates they actually charge.
Before it's here, it's on the Bloomberg Terminal.
LEARN MORE