Poor Nutrition Holds Back China's Rural Kids
Christina Larson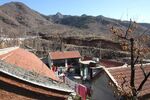 Even as a growing number of Chinese city-dwellers develop obesity, many in rural areas still suffer from inadequate nutrition. According to a forthcoming study from Stanford University's Rural Education Action Program (REAP), nearly half of the children surveyed in rural Shaanxi province were diagnosed as anemic, due to insufficient iron in their diets, and 40 percent showed cognitive or motor delays.
"Anemia acts like an invisible drag on the Chinese economy," Scott Rozelle, director of REAP, said in a statement. Development delays can dampen educational attainment, as well as long-term health and job performance.
Between April and October of 2013, Rozelle's research team visited 351 villages across Shaanxi province, testing 1,824 infants and interviewing their families. They found that misinformation about infant health and diet contributed as much as poverty to the problem.
According to the World Health Organization, about 30 percent of people worldwide suffer from an iron deficiency, making it "the most common and widespread nutritional disorder in the world."
Before it's here, it's on the Bloomberg Terminal.
LEARN MORE