Amaya Soars to Record After $4.9 Billion PokerStars Deal
Christopher Palmeri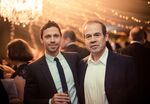 Amaya Gaming Group Inc. surged to a record after agreeing to acquire PokerStars for $4.9 billion, in a deal that creates the largest publicly held online gambling company in the world.
Amaya, a little-known supplier of betting equipment and systems based in suburban Montreal, advanced 42 percent to C$20 at the close in Toronto, an almost doubling of the stock price in a week.
The deal would transform Amaya into the biggest player in the $4 billion global business of online poker. The company aims to bring PokerStars, the world's dominant poker website, back to the U.S. following run-ins with authorities, a development that could potentially jumpstart an online gambling industry that is off to a wobbly beginning.
"Having this brand and this company in the U.S. is going to be very significant for states," Amaya Chairman and Chief Executive Officer David Baazov said in an interview.
Amaya, based in based in Pointe-Claire, Quebec, lined up financing from lenders including Deutsche Bank AG, Barclays Plc, Macquarie Group Ltd. and Blackstone Group LP.
Prior to the PokerStars deal, Amaya was focused on providing products and services to other businesses in the gambling industry. The company was founded in 2004 as a maker of software for electronic poker tables.
Rapid Growth
Baazov, now 33, joined two years later and embarked on a strategy of growth through acquisition, picking up businesses that included online gambling software provider CryptoLogic and Cadillac Jack, a maker of traditional slot machines. It generated C$155 million ($142.6 million) in revenue last year.
"Everyone had a very fragmented approach," Baazov said in the interview. "We built it all on a vision of convergence. It's a very large industry and it's going to continue to grow."
The combined company would have had $1.3 billion in 2013 sales and $474.8 million in earnings before interest, taxes, depreciation and amortization for 2013, according to the statement.
For PokerStars, new ownership could remove an obstacle to a return to the U.S. The company agreed in 2012 to pay $731 million to settle money-laundering charges with the Justice Department, a blot that has prevented the company from taking part in online gambling, now legal in three states. Isai Scheinberg, identified by prosecutors as PokerStars' founder, remains under indictment in the U.S.
N.J. Response
PokerStars and Full Tilt Poker are operated by Isle of Man-based Rational Group Ltd. The company, with more than 1,700 employees, has 85 million registered players worldwide.
Scheinberg's son Mark is founder and CEO of Rational parent Oldford Group Ltd., according to the statement. Under the agreement, Mark Scheinberg and other principals will sell their stock and resign from the company and all its subsidiaries.
Officials at the Division of Gaming Enforcement in New Jersey, the most populous state with legal online betting, said they will review the transaction to ensure compliance with its regulatory standards.
"We are also encouraged by this development and the expanded opportunities it might provide for New Jersey's Internet gaming industry," David Rebuck, director of the division, said in an e-mailed statement.
The U.S. is crucial for future growth of online gambling, according to Simon Holliday, founder of the research firm H2 Gambling Capital. Betting volume is critical in poker because gamblers gravitate toward sites with more choices of games and wager amounts.
Slow Start
"This could be massive as it should be the key for the PokerStars brand, technology, client lists and expertise all to gain access to the thus far slow-to-take-off U.S. onshore regulated market," Holliday said in an e-mail.
So far, legal Web-based gambling has struggled in the U.S. Revenue in New Jersey fell sequentially for the second straight month, to $10.5 million in May, according to data released yesterday by the Division of Gaming Enforcement. The state began online betting in November.
Global online poker revenue dipped slightly last year as the business matured in markets such as Europe, players explored other games and PokerStars' dominance squeezed competitors, according to Holliday.
Bank Loans
Amaya is financing the deal with $2.9 billion of bank loans and about $1.6 billion of equity and convertible securities, according to the statement. An additional $400 million of the purchase price will be deferred.
Deutsche Bank, Barclays Bank, Macquarie Capital USA and Blackstone Group's credit business, GSO Capital Partners LP, arranged the financing.
PokerStars has been stymied in its attempts to enter the new U.S. markets. The company tried and failed to buy a casino in Atlantic City. Last year New Jersey regulators suspended their review of the company's gambling license for two years after a complaint by the American Gaming Association, which represents U.S. casino operators.
The company has recently lobbied to get language taken out of proposed online gambling legislation in California that would preclude operators that took bets in the U.S. after Congress passed the Unlawful Internet Gambling Enforcement Act in 2006.
Isai Scheinberg and 10 other online gambling executives were accused in 2011 of conspiring to break that law, which prohibits banks and others from accepting payments for illegal online gambling.
Since then, Nevada, Delaware and New Jersey have legalized Internet betting. Although PokerStars settled two years ago, Isai Scheinberg remains under indictment and unarrested, according to Betsy Feuerstein, a spokeswoman for Preet Bharara, the U.S. Attorney for the Southern District of New York.
Before it's here, it's on the Bloomberg Terminal.
LEARN MORE