How to Write Your Own Recommendation Without Getting in Trouble
by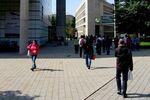 What would employers say about the MBA candidates at MIT's Sloan School of Management? That's for applicants to decide.
The school's new essay prompt will instruct applicants to do a different kind of self-reflection by writing "a professional letter of recommendation on behalf of yourself." Sloan announced on Thursday that it wants applicants, in 750 words or less, to put themselves in their most recent supervisor's shoes to assess how they interact with other people, how they stand out from others, and what they would change about themselves. "Creativity is welcome," the school says in a press release.
Dawna Levenson, director of admissions at Sloan, says in the release that the essay prompt was inspired by the practice, increasingly common in business, of having employees rate themselves and peers as part of their review. Still, it's hard to envision a way applicants can write about themselves from a hypothetical manager's perspective without getting cute or sounding downright smarmy. Try answering the following questions as your own imaginary boss:
How long and in what capacity have you known the applicant?
How does the applicant stand out from others in a similar capacity?
Please give a representative example of how the applicant interacts with other people.
The essay question may also be a sly nod to the idea that applicants might be accustomed to writing such letters. Sloan still requires the customary two letters of recommendations from outside sources, but many of those will be written by students, too. Thirty-six percent of aspiring MBAs were asked by at least one recommender to draft their own letters of recommendation, according to a survey (PDF) released last month by the Association of International Graduate Admissions Consultants.
Other top MBA programs have also been rolling out admissions requirements for the next admissions cycle. Many have steadily reduced the number of essays applicants have to write, says Eliot Ingram, founder and chief executive officer of the MBA admissions consulting firm Clear Admit. For instance, Harvard Business School tells applicants only to write "what else you would like us to know."
Schools continue to seek ways in which their essay questions can yield an authentic picture of prospective students, and this essay, Ingram says, could stop applicants in their tracks. "It's an interesting way to talk about oneself in the application, using someone else's voice," he says. "But that presents a question because it's often difficult to talk about yourself."
Before it's here, it's on the Bloomberg Terminal.
LEARN MORE