Hillary Clinton Joins Obama to Rowling in Warning Scots on Vote
Ian Wishart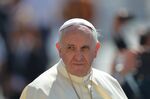 Former U.S. Secretary of State Hillary Clinton entered the debate over Scottish independence, becoming the latest high-profile figure to warn against the breakup of the U.K.
"I would hate to have you lose Scotland," Clinton told BBC Television yesterday. "I hope that it doesn't happen."
As Scots prepare to vote in a referendum on independence on Sept. 18 that could result in splitting from Britain after more than 300 years, Clinton's remarks echo those made by President Barack Obama, who last week advocated that the U.K. remains "united."
Clinton's comments add to a wave of recent warnings against Scottish independence. The issue was also broached today by Pope Francis, who drew a distinction between secession movements in Scotland, northern Italy and Catalonia in Spain and the breakup of the former Yugoslavia, where he said the cultures were so different there was no way the country could remain together.
"There will be some cases that are just and some that are unjust, but the secession of a nation that hasn't been previously forced together is something that must be handled with kid gloves and analyzed from all perspectives," Francis said, in an interview with Barcelona-based newspaper La Vanguardia. "All division concerns me."
The campaign to keep Scotland in the U.K. received a boost on June 11 when Harry Potter author J.K. Rowling, who as a Scotland resident gets a vote, announced she donated 1 million pounds ($1.7 million) to the cause.
Same Pressures
"The simple truth is that Scotland is subject to the same 21st-century pressures as the rest of the world," she said. "It must compete in the same global markets, defend itself from the same threats and navigate what still feels like a fragile economic recovery."
An opinion poll released on June 11 showed the rival campaigns in the battle over Scotland's future both failed to gain any ground last month.
The survey by TNS showed 42 percent plan to vote to remain in the U.K., with 30 percent supporting independence and 28 percent undecided. The 12 percentage-point gap was unchanged from the month before. Among people who said they were certain to vote, the gap widened by one point to 10 points, with 44 percent planning to say "No" and 34 percent "Yes," TNS said.
Obama said last week that, seen from outside, the U.K. "worked pretty well" and that the U.S. had an interest in making sure "one of the closest allies that we will ever have remains a strong, robust, united and effective partner."
Before it's here, it's on the Bloomberg Terminal.
LEARN MORE