EBA Says Allowances to Avoid Bonus Cap May Be Outlawed
Ben Moshinsky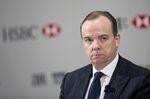 The European Banking Authority said it may restrict role-based payouts for senior bankers as it seeks to crack down on potential loopholes in rules curbing incentives for risky behavior.
The EBA has "concerns that these practices do not conform to the requirements" capping bonuses at no more than twice salary, the agency, set up in 2011 to harmonize banking regulation across the 28-nation European Union, said in a report published on its website today.
Lawmakers campaigned for the bonus caps in a bid to clamp down on the gambling culture they blamed for triggering the 2008 financial crisis. Some lenders with U.K. operations responded by giving employees cash allowances depending on seniority, known as role-based pay, to evade the restrictions. Banks consider these allowances as part of salary, and so not affected by bonus caps.
"However, these allowances are discretionary, as they are paid to selected members of staff and in most cases only for limited periods of time," the London-based EBA said in the statement. The regulator will decide on how to treat allowances in an "update of the EBA guidelines on remuneration policies" later this year.
HSBC Holdings Plc was the first U.K. lender to reveal its plans for allowances. A total of 665 HSBC employees will receive a fixed-pay allowance that is neither salary nor bonus, Chief Executive Officer Stuart Gulliver said in February. Of those, 111 will receive the allowance in shares and 554 in cash, he said.
'Material Shift'
"It's much more complicated," Gulliver said on Feb. 24. "I think we had a compensation plan that shareholders liked. Sadly because of the EU directive we've had to change."
Salaries for senior bankers rose an average of 26 percent in 2012 as banks prepared for bonus caps, the EBA said in its report, which surveyed 137 banks across the EU. This signals a "material shift from variable to fixed remuneration," according to the EBA.
The practice of banks paying fixed allowances to staff to escape a bonus cap is "not good" Andrew Bailey, the U.K.'s top banking supervisor, said in April, but "are the least worst alternative" to massive salary increases.
Britain was home to 2,188 investment bankers earning more than 1 million euros ($1.4 million) in 2012, the most in the EU, while Spain had 37, according to EBA data. France and Germany had 117 and 100, respectively.
"You wouldn't be enormously surprised that the U.K. has a far higher number of better-paid bankers, as London does around 50 percent of the investment banking in Europe," Robert Watts, a spokesman for the British Bankers' Authority, said in a telephone interview today.
"Since 2007 cash bonuses are smaller, more proportionate and there's better alignment with risk and rewards," Watts said.
Top U.K. investment bankers were paid an average of 1.95 million euros in 2012, the most in Europe, and had an average bonus-to-salary ratio of 370 percent, according to the survey.
U.K. Chancellor of the Exchequer George Osborne opposed the bonus curbs, saying they would harm the competitiveness of the nation's finance industry. The U.K. Treasury challenged the legality of the EU limits on variable pay at the European Court of Justice in September.
Before it's here, it's on the Bloomberg Terminal.
LEARN MORE