Detroit Companies Try to Sell Summer Interns on the City
By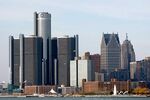 Detroit, burdened with a 14.5 percent unemployment rate, high crime, and the largest U.S. municipal bankruptcy on record, doesn't get a lot of good press. Most recently, a city task force argued for demolishing 10 percent of local buildings. That makes it tough for the city's big businesses to lure talented professionals, even at the entry level. Play Detroit word association with job seekers from out of state, and "blight" will probably come to mind before "bars."
But the city's biggest companies are hiring thousands of summer interns, and to attract high achievers, they're selling the cushiest lifestyle they can offer. About 1,000 interns will work in mortgage lender Quicken Loans' downtown offices, the company says, a fourfold increase from 2010, when it moved its headquarters from the suburbs to Downtown Detroit.
To get them there, the company offers interns a pretty sweet summer: The Detroit office features ping-pong tables and a basketball court, and Quicken partially subsidizes housing at the Wayne State University campus. Quicken was ranked the No. 23 best place to intern in the country last year in a Glassdoor study.
Other big Detroit businesses are also swimming in temporary hires. Chrysler hired nearly 500 summer interns and has increased its annual intern class about 20 percent in four years, the company says. Blue Cross Blue Shield of Michigan also says it brought in about 250 interns, and General Motors says it has hired 330 interns to work in Southeast Michigan.
Local businesses that can afford to provide a great summer intern program hope doing so will lure newcomers to Detroit and keep professionals from fleeing the city—such as the 37 percent of mobile recent graduates in Michigan who reported in a 2013 survey by the University of Michigan-Dearborn College of Business that they had left the state. The hiring challenge extends beyond showering them with perks—companies also have to teach them to love a city outsiders may see as unlovable.
To that end, corporations that include Ford, Chrysler, and DTE Energy pay about $105 per intern to take part in a program called After 5 Detroit, says the program's founder and chief executive, Kerry Doman. The program, designed to show young professionals how cool the city can be, sets up ice cream socials, restaurant crawls, and rooftop parties for interns. Companies such as Quicken, marketing agency Lowe Campbell Ewald, and BCBS Michigan team up with tour operator Detroit Experience Factory to take its interns around the city's trendy areas.
Detroit companies are "competing with the allure of Chicago and New York," says Doman, who adds that college students often view the city's business climate and culture in a negative light. "The perception for a long time has been there's nothing to do here, no jobs, no young people. It's hard to recruit when you're based in Detroit."
To help interns see themselves as future residents, one of Detroit Experience Factory's co-founders, Jeanette Pierce, points to features of the city, such as its theater district (second-largest in the country, she says), sports stadiums, and a sliver of hipness downtown, where would-be residents join waiting lists to rent apartments, says Pierce, and the population skews slightly younger than Michigan's overall, according to a report last year by local business groups.
"Sure, there are a lot of abandoned buildings, but by no means is that the city itself," says 22-year-old Jeremy Aiken, who interned for Quicken last year before getting hired as an executive assistant last month. Recently, he says he has attended Red Wings hockey games and electronic music festival Movement.
BCBS Michigan offers full-time jobs to around 38 percent of its interns after graduation, and 90 percent of them accept, says Stefanie Thornton, the company's director of talent acquisition. (About 20 percent of interns overall are from out of state, she says.) Chrysler spokesman Michael Palese says about 20 percent of interns are returning this year for another part-time gig.
Detroit companies trying to make life easier for interns have to compensate for some of the city's deficiencies. Detroit has no citywide rail system, and two-thirds of its bus riders called the bus service "irritating, frustrating and time consuming" in a 2012 Detroit News survey. So Quicken Loans operates a shuttle bus from the Wayne State dorms to its headquarters, says Michelle Salvatore, the company's vice president for recruiting. Detroit's not-undeserved reputation as a scary city can also reduce its appeal for young professionals. The city reported 2,123 violent crimes for every 100,000 residents in 2012, more than five times the national average, according to the Federal Bureau of Investigation.
For Chrysler interns skittish about exploring Detroit after dark, the auto company, headquartered in the Auburn Hills suburb, provides shuttles to and from After 5 Detroit events in the city. "For the most part, bringing them to Detroit and bringing them back from Detroit is a way of making everyone safe," Palese says. "Sometimes you're safe, but you may not feel that way."
Even if freshly minted Detroiters are convinced of the city's charms, their loved ones might be harder to persuade.
Carly Getz, a Syracuse University graduate who interned at BCBS Michigan before she was hired full time as a public relations and social media liaison last fall, says her decision was initially met with skepticism. "I got the one-eyebrow-up when I told people I was moving," she says. But "I completely fell in love with mostly my job, but also Detroit."
Before it's here, it's on the Bloomberg Terminal.
LEARN MORE