Is Tom Cruise Still a Movie Star?
by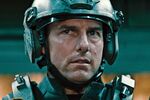 This was a good news/terrible news kind of week for Tom Cruise. On the plus side, he got some of his best reviews in ages for the new science fiction action movie, Edge of Tomorrow. The film, which many expected would put the onetime superstar back on top, then met with disappointing results at the box office.
The alien-fighting movie, with a reported price tag of $175 million, took in just $29 million in its debut weekend and lost by a mile to teenage tearjerker The Fault in Our Stars, which sold some $48 million in tickets. Cruise's blockbuster even lagged behind Angelina Jolie's Maleficent in the battle for second place.
Edge's $10.7 million opening day was worse than the $13.3 million drawn by Cruise's last sci-fi flick, Oblivion, which wasn't particularly well-liked by critics and grossed only $89 million in the U.S. Indeed, to find the last Cruise vehicle to break $100 million at the American box office—apart from Mission: Impossible sequels—you would have to go all the way back to 2005's War of the Worlds. Ten of the 12 films Cruise starred in before 2005 broke the century mark—a remarkable run that reaches all the way back to 1992's A Few Good Men. After War of the Worlds, only new entries in the Mission: Impossible series did so. (Tropic Thunder took in $110 million, but Cruise merely had a glorified cameo in that.)
War of the Worlds turned out to be a pivotal moment in Cruise's career. At $234 million, the movie tallied his highest gross ever. But his press tour for that film was when he had his "Oprah moment"—seemingly jumping on Oprah Winfrey's couch during an interview on her show. In a recent LA Weekly article, "How YouTube and Internet Journalism Destroyed Tom Cruise, Our Last Movie Star," critic Amy Nicholson makes a compelling case that the alleged "couch-jumping" wasn't any such thing at all. The career-shifting moment was just Cruise playing to a ridiculously enthusiastic studio audience, unaware that the Age of Viral Video had started. YouTube had just launched a few months prior. (It wasn't just Oprah's sofa: That same press tour also featured Cruise sparring with Matt Lauer on the Today Show over criticism of Brooke Shields's having taking medication to treat her post-partum depression.)
By 2006, Cruise lost his main movie studio; Paramount didn't renew its contract with his production company. "He was embarrassing the studio," Viacom Chief Executive Officer Sumner Redstone told Vanity Fair, adding that "women everywhere" had come to hate the star. Since then, Cruise has been known more for tabloid lawsuits, leaked Scientology videos and a rocky marriage to (and divorce with) Katie Holmes than for hit movies.
All that has left its mark on the one-time box-office king. It even begs the unthinkable question: Is Tom Cruise still a movie star?
True, Forbes named him Hollywood's highest-paid actor just two years ago, estimating that he earned $75 million from May 2011 to May 2012. That was the year the fourth Mission: Impossible movie, Ghost Protocol, took in $209 million at the domestic box office and an eye-popping $694 million overseas. And there are lots of reasons why his new movie might not be a hit that have little to do with its biggest star. Based on a Japanese novel, Edge of Tomorrow is essentially an "original"– that is to say, not a sequel or an adaptation from a well-known source. Original properties haven't fared well recently: Last year's Pacific Rim also got strong reviews, yet failed to break $100 million.
At the same time, movie stars are supposed to help sell such original properties. That's what Brad Pitt did last year, when he helped guide World War Z, a troubled production with tons of toxic early buzz, to a terrific $66 million domestic debut on the way to claiming $540 million worldwide. Indeed, Cruise himself was once the master of the non-sequel. The vast majority of his $100 million movies were "originals," and the Mission: Impossible movies are his only franchise. Contrast that with Iron Man/Avengers/Sherlock Holmes star Robert Downey Jr., whose box-office profile has exploded while Cruise's has waned.
This isn't the first time Cruise's box-office power has come under scrutiny, but it feels like a turning point. When the Hollywood Reporter declared that Cruise "still mattered" back in 2011, the publication specifically pointed to his casting in several big-budget studio projects: Oblivion, Rock of Ages, Jack Reacher, and Edge of Tomorrow. Now the first three have underperformed and the fourth seems set to do so, too. Had they been released during Cruise's 1990s heyday, "underperformed" would be understating it—those movies would all have been viewed as flops.
Edge of Tomorrow's disappointment stings more because, unlike those three movies, it seems to be well-liked. At least its international prospects look a bit better. Edge opened in 28 markets in the week ahead of its U.S. release date and has made about $110 million in that span. While it did solid business in Asia, its reception in Germany, France, and the U.K. has been tepid. Many presumed the film would play well in Europe, which provides the setting for most of the action, with a boost from British co-star Emily Blunt.
A little perspective may be in order. "At this stage in his career, Cruise can be counted on for reaching the $80 million range domestically with his action films outside of his signature Mission: Impossible franchise," says Gitesh Pandya of Box Office Guru. "That's a drop from many of his big hits in the 1990s but for a star who has been anchoring blockbusters for over 30 years, it's still pretty good." The good word-of-mouth offers some hope for the coming weeks, and such Cruise films as Minority Report have shown good legs. His box-office prospects include a potential boost from an additional Mission: Impossible movie and a long-awaited sequel to Top Gun.
But maybe what Cruise really needs to do is to cool it on the action movies and attempt a serious role like his acclaimed turns in Magnolia or Collateral. It worked for Matthew McConaughey, now at the height of his career after flatlining at the box office for many years. Can Cruise repair his image with his own version of the McConaissance? To do that, he may need to learn to live without the action and try to do some acting.
Before it's here, it's on the Bloomberg Terminal.
LEARN MORE