Starbucks Tackles Another Tech Problem With Phone-Charging Mats
By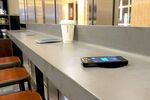 The world's largest coffee store chain also has some tea shops now (not to mention Oprah Chai) and at least one location serving beer and burgers. But the most interesting new efforts from Starbucks these days have to do with technology.
Like any tech company, Starbucks has been looking for problems to solve for years. It began in 2010 with free Wi-Fi, making the chain an international answer for anyone who needs a place to get online. Its stores already accept mobile payment, and this year Starbucks will test a mobile app that lets customers place orders ahead of time.
That leaves one of the most anxiety-inducing problems for those carrying smartphones: running out of power. The Starbucks solution introduced Thursday will deploy Duracell Powermats to stores across the U.S. The wireless chargers will be free to use.
Starbucks has been testing the Duracell chargers in shops in Boston and San Jose, embedding the mats in tables and countertops. The next city to get them is—you guessed it—San Francisco, and the program will expand over three years to include 100,000 chargers in 7,500 stores.
The mats won't be sold at Starbucks, says Scott Eisenstein, a spokesperson for Duracell Powermat, but the at-home version can be purchased directly from Duracell.
There is a catch: Many mobile phones, including Apple's current iPhones, don't have the capability to use wireless chargers. (Motorola Mobility and LG have added wireless charging capabilities to their phones already.) Duracell and others sell phone cases with built-in batteries that allow owners to take advantage of wireless charging. Starbucks also had some of these accessories available for sale in its stores during the tests.
Starbucks expects the typical customer to use the charger for about 15 minutes, and company spokeswoman Linda Mills has said that using the mats is more energy-efficient than an outlet. If you stay for an hour or two, that's not a problem—just order another espresso.
Before it's here, it's on the Bloomberg Terminal.
LEARN MORE