Obama's Record on Climate Change Ain't Over Till It's Over
by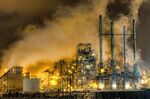 The White House proposed new rules to govern greenhouse gas emissions from existing power plants over a week ago. That, along with aggressive car fuel efficiency standards finalized in 2012, have clearly pushed President Barack Obama ahead of his predecessors in the climate legacy race. Granted, not many entrants in that race, but he could still easily lose.
At least two major questions remain before the case is closed on Obama. Both have to do with how carbon fuels flow across borders.
The first concerns the administration's role in debates about potential coal exports from the West Coast. More than 100 million tons of coal might flow out to the Pacific every year if three coal export terminals are built, one in Oregon and two in Washington, and assuming China wants it. The federal government has been involved in discussions about how best to study the proposed facilities' environmental impacts. It's a lot of coal potentially passing through hands that Obama says he wants to keep clean.
With natural gas stealing market share in power generation from coal, mining companies are looking East to unload their tonnage. The three terminals face various political or legal challenges. At issue for Obama's legacy is how they'll measure the environmental impact of planned facilities -- with or without a measure of the carbon pollution that will be generated at foreign power plants.
The Army Corps of Engineers has said it will study the local air, land and water impacts. That's the standard adopted before the atmosphere came along and made everything such a pain. The EPA wanted the studies to take into account the overall carbon dioxide emissions from coal-burning abroad. "EPA asked the corps to consider that impact, but the corps -- after extensive consultation with the White House -- declined," Bloomberg BNA reported last month.
The second legacy question doesn't need much introduction. The Keystone XL pipeline would bring as much as 830,000 barrels a year of oil into the U.S. from Canada, and has been the focus of the unlikeliest protracted political battle of recent times.
Once they're all final, Obama's major initiatives will do much to lower U.S. carbon pollution levels. What will matter most to his legacy is how consistently low-carbon policies are applied even to issues that haven't become political symbols covered regularly in media.
Sometimes taking on a political symbol earns you only a political victory. Those are the kinds of wins the atmosphere couldn't care less about.
More by Eric Roston (@eroston on Twitter)
Visit The Grid for the latest about energy, natural resources and global business.

Before it's here, it's on the Bloomberg Terminal.
LEARN MORE