New York Times Walks Back the Phil Mickelson Insider-Trading Story
By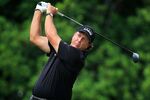 Even people leaking information to the press about sensitive government investigations make mistakes. The golf pro Phil Mickelson, who was implicated in an insider trading-investigation in articles in the Wall Street Journal and the New York Times on May 30, may not be a target of the investigation.
According to both news organizations, the FBI in New York and the Security and Exchange Commission have for two years been investigating well-timed trades in Clorox involving Carl Icahn, Mickelson, and professional gambler Billy Walters. Mickelson was said to have traded Clorox, possibly based on tips about Icahn's investing activities that were transmitted through Walters, a sometime golf and poker partner and friend to both men. But as the Times reported on Thursday:
Although Mr. Icahn and Mr. Walters remain under investigation over Clorox, the FBI and the Securities and Exchange Commission have found no evidence that Mr. Mickelson traded Clorox shares. The overstated scope of the investigation came from information provided to The Times by other people briefed on the matter who have since acknowledged making a mistake.
Mickelson is still being looked at with regard to trading in other securities, however. According to the Times:
Mr. Mickelson and Mr. Walters, as previously reported, still face an investigation over separate well-timed trades they made in Dean Foods [ticker symbol="DF"]Dean Foods[/ticker] in 2012 just before the company's stock soared. Those trades generated more than $15 million in proceeds for Mr. Walters and nearly $1 million for Mr. Mickelson, one of the four people briefed on the matter said.
The events highlight the devastating impact of such leaks on everyone involved. For Icahn, Walters, and Mickelson—all of whom deny wrongdoing—the story causes distraction and serious reputational damage, which can have an immediate impact on an athlete's endorsement deals. For FBI and SEC investigators doing the work of assembling evidence and trying to put cases together, media exposure can shut inquiries down and derail lines of investigation. They can no longer deploy covert methods such as wiretaps and confidential informants, which have been powerful tools in such cases, and there is potential for evidence to be destroyed.
Mickelson, meanwhile, is in Pinehurst, N.C., at the U.S. Open golf tournament, trying to win it for the first time after having been a runner-up six times. It would make him the sixth golfer to have achieved a career Grand Slam, and the pressure is high. "I'll continue to say I haven't done anything wrong," Mickelson said after shooting the first round. "I'm willing to help out, love to help out any way on the investigation. So, like I said before, with an investigation going on, I'm not going to comment any further on it. But I'll continue to say that I've done absolutely nothing wrong."