New Starbucks Mugs Are 1980s Throwbacks
by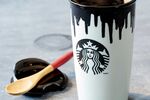 Starbucks (SBUX) has teamed up with fashion brand Band of Outsiders for new limited-edition mugs. The ceramic cups feature the coffee company's familiar shape and logo dressed up with dripping "paint."
This is the fifth designer mug collaboration in a series that has included Jonathan Adler, Rodarte, Charlotte Ronson, and, most recently, Stacey Bendet of Alice + Olivia. Now Scott Sternberg—the designer responsible for revamping the penny loafer and  double-breasted jacket—riffs on his favorite coffee slang, "drip," to complete the 1980s-inspired ensemble.

Sternberg founded Band of Outsiders in 2004 as a shirt-and-tie business and has gradually expanded to include preppy-cool casual wear—think schoolboy blazers with gold buttons for both sexes. The designer previously collaborated with Atari to splash classic video game motifs on his fall 2013 runway collection, and his childhood nostalgia is on display here. (Remember ectoplasm?)
The 12-ounce mugs are available online and in stores for $14.95.
Before it's here, it's on the Bloomberg Terminal.
LEARN MORE