Asia's Biggest Discount Airline Takes on India
by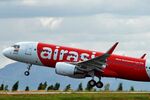 After successfully building the largest low-cost airline in Southeast Asia, AirAsia's chief executive, Tony Fernandes, is taking on one of his biggest challenges yet: Making money in a country with some of the highest operating costs in Asia. Today, AirAsia India, a joint venture with Tata Sons and Telestra Tradeplace, began flying in India, where a crowded market and high costs have pushed several major carriers into the red. Because of high jet fuel taxes and airport charges, operating an airline in India can cost as much as 60 percent more than in nearby countries, KPMG India partner Amber Dubey said on Bloomberg Television today.
But with new Prime Minister Narendra Modi inspiring confidence that things will finally change for the better in India, Fernandes "is very optimistic," he told Bloomberg Television today. "State governments are very aviation friendly at the moment; there is a strong national government that has put tourism at the top of its agenda," he said. "It's all about the timing." AirAsia is starting small in India, with only two planes, although Fernandes says the plan is scale up to six. At that level, "we are very confident of breaking even," he said.
That won't be easy. While India has several weak incumbents, such as Jet Airways and SpiceJet, the country is also home to IndiGo, the biggest domestic carrier by market share. IndiGo has plans to more than double its fleet to 150 planes by 2023, its president, Aditya Ghosh, told Bloomberg News in September. It has greeted AirAsia's arrival by introducing group discounts of up to 25 percent and offering flights between Bangalore and Goa for one single rupee. With a fare war already under way, "no way can anyone make profits," KPMG's Dubey told Bloomberg Television today.
Fernandes said there's still plenty of market to go around. It's true, India's aviation industry could use the help. In addition to the money-losing locals, the industry suffered an embarrassing setback in January when the U.S. Federal Aviation Administration downgraded the country's safety rating. "India's civil aviation safety oversight regime does not currently comply with the international safety standards set by the International Civil Aviation Organization," the FAA said in a statement published Jan. 31. As a result of the downgrade, Indian carriers can still fly to the U.S. but cannot establish any new services.
Before it's here, it's on the Bloomberg Terminal.
LEARN MORE