Tea Party Republicans Run Away From the Chance to Lead
By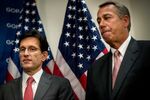 Last year, hardline conservatives in the House attempted a coup to drive John Boehner from the Speakership. It wound up being a comical disaster—the plan leaked, some of the plotters lost their nerve and bailed out, but most of all, no bona fide conservative seemed to want the job. So after making a lot of noise about how they were going to dispatch Boehner, these right wingers had nobody to replace him with and lost in hapless fashion.
House Majority Leader Eric Cantor's shocking upset in Tuesday's Virginia GOP primary opens up the No. 2 slot in the Republican leadership hierarchy, a job that's all the more significant because the guy at the top, Boehner, may not stick around much longer. Given the energy among the hardliners after Cantor's defeat and their long-standing desire to take over party leadership, the open majority leader spot looks like an amazing stroke of good fortune. This morning, Politico's Mike Allen explained how conservatives, if they're quick and clever, could use that opening to take control of the House GOP caucus away from the establishment:
House GOP leaders jammed the leadership races into next week to prevent hardliners from taking over, perhaps for good. If members of the Heritage [Foundation]-tea party axis get their candidate and strategy ready by Monday morning, they have ample time to knock off Whip Kevin McCarthy, the current #2, who's running to replace Eric Cantor as majority leader; win the whip job, too; and position themselves for the speakership when Boehner steps down.

This would give tea partiers the top and bottom of the House, and allow them to squeeze out the rest as committee chairs are picked in the future. This plot is tempting for activists—and not unrealistic. The establishment—a week ago seen as ascendant—would be demolished in the House. The right could make this a litmus test for members, shame and bully them, and make sure that come next Thursday, the establishment they want dead is dead in the House.
There are any number of Tea Party-friendly hardliners who would fit the bill: Paul Ryan, Jeb Hensarling, Tom Price, Jim Jordan. But one by one, all of them are begging off the race. Ryan says he has no interest. Price is focused on succeeding Ryan as Budget Committee chairman. Jordan told his local newspaper that he won't run for a leadership spot. And just this morning, the hardliners' preferred candidate, Hensarling, who appeared to be a legitimate possibility to knock off Kevin McCarthy, the establishment's pick for majority leader, announced that he won't run either. This is a huge blow to conservatives' chances of taking over leadership. And for the second time, it's because none of their leaders seems to want the job.
Before it's here, it's on the Bloomberg Terminal.
LEARN MORE