Why Some States May Get to Increase Carbon Emissions Under New EPA Rules
By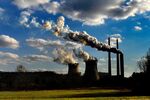 When the Environmental Protection Agency proposed new rules last week to restrict carbon emissions from power plants, there was some initial confusion about how tough they were. A lot of first takes focused on the headline number: Power plants have to cut carbon emissions by 30 percent by 2030. Sounds like a lot.
But dig through the 645-page document (pdf here) and it becomes apparent that the rules are rather tepid, especially once you realize that half the reduction goals have already been achieved. The 30 percent cut is based on 2005 levels of CO2 emissions, not current ones, and emissions are already down 15 percent since then.
The important thing to understand is that the 30 percent headline number is a target for the nation overall. Not every state has to cut its carbon emissions by that much. Instead, the EPA rules give each state a reduction number to hit, based on a formula the agency came up with to estimate each state's ability to cut pollution. The EPA graded each state on four areas: its capacity to make coal plants more efficient, to use more cleaner-burning natural gas, to build more nuclear and renewable power, and to improve overall energy efficiency. States that can do those things well are given higher reduction targets, while states that can't get lower ones.
For example, Maine, Maryland, Massachusetts, and New York have all cut their emissions more than 46 percent since 2005. The EPA calculates they can keep it up and has given each an aggressive reduction target. Kentucky and West Virginia, on the other hand, have cut their emissions by much less, 7 percent and 19 percent, respectively, since 2005. They get much lower reduction targets as a result. Looked at one way, the EPA is encouraging states that have already gotten a jump on pollution to get even cleaner. Looked at another way, the government is punishing states that have cut emissions the most while letting those that haven't off easy.
Here's the EPA's formula:

The disparity among states may be even more lopsided than the EPA lets on. Under the estimates the agency put out last week, every state would have to cut its emissions at least a little. But it's not clear that's what will really happen. Some states may actually be able to increase their CO2 emissions by 2030 and still be in compliance with the new rules. The analysts at Bloomberg New Energy Finance dug into the formula the EPA used to determine the state goals and have come up with a scenario in which eight states—California, Montana, North Dakota, Nebraska, Kansas, Missouri, Kentucky, and Rhode Island—can all increase their CO2 emissions.
Here's a map (pdf) showing the percent reductions under this scenario:

BNEF's analysis hinges on a crucial point: The state standards don't mandate absolute cuts in CO2. Rather, they require states to lower the ratio between the amount of emissions they produce and the amount of power they generate. The EPA has given states a great deal of flexibility to decide how to lower this ratio. The rules don't explicitly say a state has to cut its emissions to lower the ratio. If, say, a state increases the amount of power it generates, its emissions can rise as well without disrupting the ratio.
Two states illustrate how this could happen: California and Kentucky.
California has the most progressive climate policies of any state in the U.S. Its renewable power output is slated to triple by 2030. And yet, as BNEF points out, two developments will likely keep its emissions from falling: The state's power demand is expected to grow significantly, and its lone nuclear power plant, Diablo Canyon, will probably shut down before 2030 and have its generation replaced by natural gas, which is clean but not as clean as nuclear.
Diablo Canyon produces 7 percent of California's electricity. Replacing it with natural gas-fired power would boost the state's emissions 11 percent, according to BNEF. On top of that, under an existing state law that has nothing to do with the EPA's proposed rule, California is requiring automakers to sell more zero-emission electric cars there—1.5 million by 2025. That alone is expected to boost the state's demand for electricity by 2 percent. If this happens, California's real-life carbon emissions can go up despite the deep cuts the EPA appears to require on paper.
Kentucky, on the other hand, may be able to boost its emissions for the opposite reason, according to the BNEF calculations. The state currently has the dirtiest power mix in the country. Almost all its electricity comes from coal. With very little renewable energy capacity, its ability to switch that coal to natural gas or other cleaner fuels is, currently, about zero. The EPA's rules can order states with gas plants to use them more, but it can't order a state to build them. As a result, the EPA goes easy on Kentucky. If energy demands increase in the state, as expected, the state could burn more coal, and put more carbon into the air, without raising eyebrows at the EPA.
While the EPA says it has not reviewed the BNEF analysis and cannot confirm its approach, an EPA official who was presented with BNEF's analysis did not dispute it.
This is not to say that EPA's rules won't clean up the air and help make power plants more efficient. But due to the flexibility it hands to the states, the rules don't put a hard cap on emissions. Instead, they lock in a ratio of power generation to carbon emissions, ensuring that for every megawatt of electricity produced, the resulting emissions will be lower in 2030 than they are today. While this nuance may result in overall weaker emission reductions, it also undercuts arguments that the new rules will kill economic growth and make life significantly more expensive.
Before it's here, it's on the Bloomberg Terminal.
LEARN MORE