Target Investors Vote to Approve Board, Executive-Pay Plan
Renee Dudley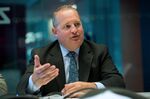 Target Corp. investors approved its slate of directors today, rejecting a recommendation by Institutional Shareholder Services Inc. to vote against seven of its 10 board members.
Investors also approved the executive-compensation plan in an advisory vote, Target said today at its shareholder meeting in Dallas. Three other proposals, which would have eliminated executive perks, changed its discrimination policies and required an independent chairman, were voted down. Those measures were opposed by the Minneapolis-based company.
The annual meeting was the company's first since a hacker attack last year compromised the data of millions of customers and hurt sales. ISS in a report last month had advised voting against the board's audit and corporate-responsibility committees because they failed to recognize the potential threats to the data.
Target also raised its quarterly dividend almost 21 percent to 52 cents a share today. That topped the 50-cent estimate, according to data compiled by Bloomberg. The dividend will be paid on Sept. 10 to shareholders of record at the close of business Aug. 20.
Target ousted Chairman and Chief Executive Officer Gregg Steinhafel last month and replaced him with Chief Financial Officer John Mulligan on an interim basis. In addition to the breach, slow U.S. sales and a disappointing Canadian expansion had dogged the retail chain.
Resilience Tested
"In 2013, our company faced challenges that clearly tested our resilience," Roxanne Austin, who is serving as interim chairman, said at today's meeting.
She said the company is now working to increase U.S. sales and traffic, boost performance in Canada and accelerate its transition to "omnichannel" -- the ability to seamlessly sell products online and in brick-and-mortar stores.
Target also announced the hiring of a top data-security executive this week. Brad Maiorino, who joins from General Motors Co., will serve as chief information security officer starting June 16. He will answer to another recently hired executive, Bob DeRodes, who was named chief information officer in April.
Before it's here, it's on the Bloomberg Terminal.
LEARN MORE