Paula Deen Channels Glenn Beck in Her All-Digital Comeback
by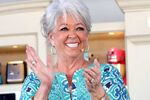 Who needs the Food Network? Not Paula Deen.
Roughly a year after being dropped by her longtime pay-TV partners amid a maelstrom over alleged racism, Deen has announced the launch of an all-digital entertainment network. After its September debut the site will be available live and on-demand to paying subscribers via desktop computers, smartphones, and tablets. No word yet on how much it will cost.
The Paula Deen Network will feature a cooking show starring Deen, shot in front of a live audience at a new studio in Savannah, Ga. Her longtime TV producer, Gordon Elliott, will help oversee the content. The subscription site will also feature recipes, lifestyle tips, how-to videos, holiday specials, and guest appearances by Deen's celebrity-chef offspring.
Steven Nanula, chief executive officer of Paula Deen Ventures, said in Wednesday's press release that Deen had received "several offers to return to broadcast television." He did not specify which networks she had turned down.
Other refugees from traditional TV have already adapted similar strategies. Deen and her private-equity backers can study Glenn Beck, for example, on how to build a streaming-TV network around a larger-than-life entertainment personality. Shortly after leaving Fox News in 2011, Beck launched a digital network that was later renamed BlazeTV. For several years the network has amassed a sizable audience—for an independent streaming TV network—by cobbling together a range of deals with traditional and non-traditional distributors.
Deen's latest move comes at a time when the traditional broadcast, satellite, and cable-TV industry faces growing pressure from new and emerging forms of digital distribution. At the moment, a fierce arms race is underway among giant technology and telecommunication companies, including the likes of Apple, Verizon, Dish, and Comcast, to roll out a comprehensive, multichannel Internet-TV service. To date many traditional TV networks have been hesitant to sign carriage agreements with the emerging distribution platforms for fear of jeopardizing their lucrative deals with the existing cable and satellite companies.
That reluctance may provide a window of opportunity for newfangled digital-TV brands such as the Paula Deen Network to get an early leg-up. Look for Deen's subscription service to follow a Glenn Beck-like path to growth—only with a lot more butter.
Before it's here, it's on the Bloomberg Terminal.
LEARN MORE