Obama Calls No Gun-Law Action His Greatest Disappointment
Angela Greiling Keane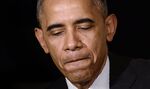 Blaming a Congress he said is beholden to the biggest U.S. gun lobby, President Barack Obama said a failure to enact tougher gun-control laws is his greatest disappointment in more than five years as president.
Speaking hours after the latest school shooting, Obama said Congress should be "ashamed" of its inability to act in the face of the National Rifle Association's political power.
"Most members of Congress, and to some degree this is bipartisan, are terrified of the NRA," Obama said yesterday at the White House. "The NRA and gun manufacturers are very well financed and have the capacity to move votes in local elections and congressional elections."
Obama pressed Congress to expand background checks for gun buyers and revive a ban on military-style semi-automatic rifles following the 2012 shooting deaths of 20 students and six educators at Sandy Hook Elementary School in Newtown, Connecticut. The Senate killed the background check legislation.
Since the Newtown mass killing, there have been scores of shootings at schools in the U.S. The latest occurred yesterday at a high school in Troutdale, Oregon, where a teenager armed with a rifle killed a student and wounded a teacher. Police said the shooter also died, likely a result of suicide.
On June 5, a gunman wounded four people at Seattle Pacific University, and on May 23, six people were killed by a man who went on a stabbing and shooting rampage in Isla Vista, California, near the campus of the University of California, Santa Barbara.
Unique Phenomenon
"We're the only developed country on earth where this happens, and it happens now once a week and it's a one-day story," Obama said. "There's no place else like this."
The NRA didn't respond to a phone call seeking comment.
The group, based in Fairfax, Virginia, says it has more than 4 million individuals as members. The group had 2011 revenue of $219 million, according to NRA tax returns. More than $100 million came from member dues, while $59 million came from the gun industry and other donors.
The NRA, the nation's biggest lobby for gun manufacturers and owners, has consistently fought attempts to restrict firearms.
"Right now, it's not even possible to get the mildest restrictions through Congress and we should be ashamed of that," Obama said.
The president was responding to a question from David Karp, founder of Yahoo Inc.'s Tumblr service, who interviewed the president for a discussion about student loans.
Stalled Issue
Senate Democratic leaders have said they won't bring the background check proposal back for another vote unless Republicans or Democrats who oppose it reconsider their positions.
Second-ranking Senate Democrat Richard Durbin of Illinois said yesterday in an interview that, as much as he'd like to see the Senate pass the measure, he had no indication that any positions had changed.
"A very few days go by that we don't have these killings," Senate Majority Leader Harry Reid, a Nevada Democrat, told reporters yesterday after the Oregon shooting. "The man in Las Vegas clearly from what I've been able to read was a felon. He couldn't have bought a gun had we had background checks."
The White House in January said the Departments of Justice and Health and Human Services were proposing changes to regulations to clarify who under U.S. law is prohibited from possessing guns for mental health reasons. The agencies are working on the rules.
Yesterday, Obama said the blame for gun violence in the U.S. goes beyond people with mental illnesses.
"The United States does not have a monopoly on crazy people," he said. "It's not the only country that has psychosis. And yet we kill each other in these mass shootings that are exponentially higher than anywhere else. What's the difference? The difference is these guys can stack up a bunch of ammunition in their houses, and that's sort of par for the course."
Before it's here, it's on the Bloomberg Terminal.
LEARN MORE