Inditex's Key to Fast Fashion Online: Even Faster Shipping
By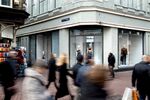 The secret to fast fashion these days, apparently, is to move the clothing around even faster.
Inditex sales at Zara and the rest of its retail empire have picked up simply because it is turning around online orders more quickly. Thanks to a number of new warehouses, a lot of Inditex's Internet customers are getting their clothes the next day. The company recently opened a fourth European stockroom in Poland, to zip cheap sweaters to Germany and Sweden, and a second in the U.S., serving the West Coast from Los Angeles. It's in the midst of building two more in South Korea and Mexico.
"In most of the cases now, the standard delivery is beginning to take place the day after the order, so it's nearly a standard delivery which becomes express delivery," Inditex's chief executive, Pablo Isla, said on a conference call Wednesday morning.
The strategy lets Inditex pile up apparel without worrying about expensive window displays and prime real estate. It also gives the company an efficient way to expand the bevvy of baby brands—Massimo Dutti, Oysho, Uterque, to name a few—it hopes to expand to the scale of Zara. Building separate websites for each of those lines is far cheaper than signing a bunch of leases and hiring a new sales staff.
The secret to making the Web push work—like everything else at Inditex—is a superresponsive supply chain. The warehouses get shipments of product twice a week. "It's like opening a store without the store, only with the stockroom," Isla explained. Of course, the key is shipping the right inventory twice a week, and in the right quantity, while updating the website often enough to make sure people aren't buying items that aren't available.
Although Inditex now has almost 6,400 stores, the Web has been a focus of its recent buildout. The company now takes online orders in 21 European countries, plus Japan, China, and North America. Web stores for Mexico and South Korea are set to open in September.
"We're scaling online globally in a very, very easy way," Isla said this morning in what is quite possibly the first time in 20 years a retail executive uttered the phrase "very, very easy." He also announced that Inditex will soon be selling its apparel on Tmall, a massive Chinese e-commerce platform owned by Alibaba—a decision that suggests Zara might lack a bit of brand power in one of the world's largest markets.
Isla sees the massive marketplace as "totally consistent" with the company's image. "It's very similar to opening a store in a shopping mall," he said. Wonder if he would say the same about Amazon.com?
Before it's here, it's on the Bloomberg Terminal.
LEARN MORE