How the Rapid Growth of Persian Gulf Airlines Cuts Into Lufthansa's Profits
by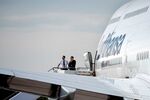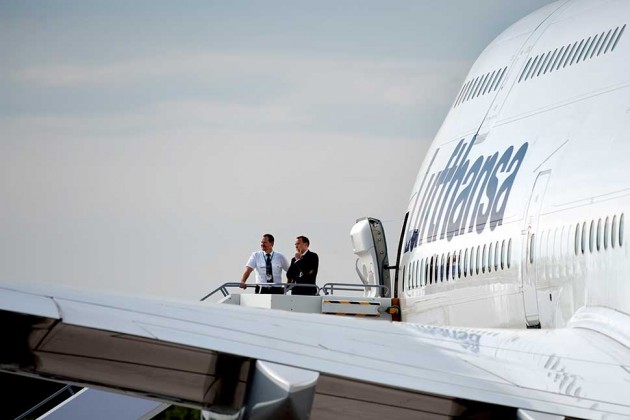 Global airline executives tend to focus their financial worrying on oil prices and economic instability. The ambitions of three Persian Gulf-based carriers haven't typically been on the radar. But the growth of Emirates, Qatar, and Etihad appear to be coming at the expense of European airlines battling for many of the same passengers—and the Gulf upstarts could soon pose a threat to U.S. airlines as well.
Lufthansa warned on Wednesday that its profits this year and next would be lower than expected, and it blamed the bad forecast on capacity expansion by Gulf carriers. The trio are trying to lure travelers with premium cabin services and hubs in the United Arab Emirates. The business travelers bound for, say, India who once connected in London, Frankfurt, or Paris can now find connections in Dubai, Doha, or Abu Dhabi. Lufthansa said it would "noticeably" cut its seat capacity this winter to help alleviate the profit pressures
Lufthansa and other airlines contend that the big Gulf carriers are state-owned and state-subsidized. Now they "are advancing ever further into the European market, also by means of investments in European airlines," Lufthansa's financial chief, Simone Menne, said in a statement. Etihad has invested in Air Berlin and Aer Lingus and plans to take a stake in Alitalia.
Lufthansa shares dropped as much as 16 percent, the most since 2001, and the airline had lots of company. U.S. airlines suffered on the news, with Delta Air Lines, United, and American shares dropping at least 3 percent, while Air France-KLM and British Airways sank by at least 6 percent.
U.S. airlines don't directly compete with the UAE carriers at the moment, but it's not hard to see a day when their robust schedules siphon international traffic away. This week Etihad celebrated the launch of its daily Los Angeles-Abu Dhabi nonstop with a lavish dinner party in Beverly Hills, while Qatar added its sixth U.S. nonstop destination in Miami. Qatar begins service to Dallas-Fort Worth next month, a market Etihad will enter in December. Emirates, which has been flying to DFW since 2012, will switch to a larger Airbus A380 for its daily 14-hour flight.
Before it's here, it's on the Bloomberg Terminal.
LEARN MORE