Hamas Woos West Bank in Bid to Repeat Upset in Next Election
Jonathan Ferziger and Fadwa Hodali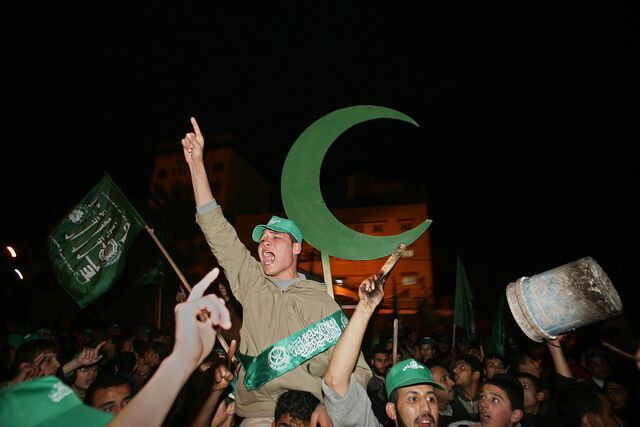 The militant Islamist Hamas, again a partner in the Palestinian government, is looking to complete its political comeback in elections.
The movement shunned by the U.S. and European Union as a terrorist group is returning to the West Bank in full force, holding rallies and flying its green flags after being banned for years from public displays there. Polls shows the Gaza Strip-based movement eating into Fatah's edge, thanks to West Bank inroads.
Hamas shocked the world eight years ago when, contrary to polls, it beat Palestinian President Mahmoud Abbas's Fatah party in its first foray into electoral politics. For Abbas, the gamble to bring Hamas back into the government formed June 2 may backfire if the group extends its control of Gaza to grab power in the West Bank, too.
"It would be a tremendous surprise, but Hamas surprised everyone the last time around," Mukhemer Abu Sada, a political scientist at Al-Azhar University in Gaza, said by phone.
After U.S.-sponsored peace talks between Abbas and Israel foundered in April, he and Hamas decided to resurrect their joint government that crumbled after the Islamists' violent 2007 takeover of Gaza. The reconciliation called for presidential and parliamentary elections within six months, and an interim cabinet whose ministers have no formal party ties.
Hamas wants to parlay the breakdown of negotiations into electoral power, offering armed struggle against Israel as an alternative to diplomacy in flyers it's distributing.
Corruption Fighter
Israeli fighter jets struck Gaza last night, killing a Palestinian militant after a rocket fired from the territory hit Israel earlier in the day. Defense Minister Moshe Ya'alon issued a statement afterward saying Israel "will act at all times to thwart the intentions of terrorist organizations" in Gaza.
The vow to continue fighting Israel gives Hamas a political identity that "only strengthens its popularity" among many Palestinians frustrated by a failed peace process and 47 years of Israeli military occupation, Abu Sada said.
"The only way Palestine can be free is through popular resistance and that's why I will vote Hamas," said Mohamed Jabari, 40, a Hebron shop-owner.
Hamas won the 2006 elections pledging to fight corruption and capitalizing on goodwill generated by its charity and health-care network.
Senators' Letter
"We feel very comfortable going into the elections" now planned, Hassan Yousef, a founder of the movement 25 years ago and its most prominent West Bank leader, said in an interview in Ramallah.
A group of 88 U.S. senators sent a letter to President Barack Obama today, saying they are "gravely concerned" about Hamas's role in the Palestinian government, which "undermined Congressional support for continued U.S. aid," according to a text circulated by the American Israel Public Affairs Committee.
Economics are likely to play a major role in elections this time, too. Unemployment in the West Bank and Gaza is 21 percent, and one in four Palestinians lives on less than $2 a day, according to the International Monetary Fund.
Gaza's economy, already hurt by Israeli restrictions on the movement of people and goods, has been battered further by Egypt's destruction of hundreds of underground smuggling tunnels along their border following the ouster of Islamist President Mohamed Mursi, a Hamas patron, last July.
Foreign Aid
In the West Bank, paying 170,000 government employees consumed two-thirds of the Palestinian Authority's $3.6 billion budget in 2013, fueling a $1.3 billion deficit, Deputy Prime Minister Mohammed Mustafa said in a Jan. 28 interview. Public debt was $4.4 billion last year, Mustafa said.
"Keeping the economy going in both territories is dependent on maintaining foreign aid and Israeli cooperation," said Samir Abdullah, director of the Palestine Economic Policy Research Institute in Ramallah. "Hamas crushed the private sector in Gaza and the West Bank remains economically unsustainable on its own."
Polls show Fatah's edge eroding even as it gains on Hamas's turf. A June poll for the Palestine Center for Policy and Survey Research in Ramallah gave Fatah 40 percent and Hamas 32 percent in parliamentary elections. The gap had been 15 percentage points three months earlier. Hamas's inroads in the West Bank outstripped Fatah's in Gaza, according to the poll of 1,270 Palestinians, which had a margin of error of 3 percentage points.
Election Doubt
More than 1.1 million voters are registered in the West Bank, compared with less than 800,000 in Gaza, according to the Central Elections Commission.
To be sure, Palestinian political deadlines tend to stretch and many doubt elections will take place soon, said Khalil Shaheen, research director at the Palestinian Center for Policy and Strategic Studies in Ramallah.
Israel may foil election plans by barring the vote in east Jerusalem, home to some 200,000 Palestinians who are governed by Israeli law, he said.
Israel, which is shunning the new Palestinian government because of its Hamas backing, has said it would act to block the organization from participating in elections.
Abbas, 79, has sidestepped elections before, his four-year term having expired in January 2009. Any indication polls are leaning toward Hamas would encourage him to stall the balloting, said Jehad Harb, a Bir Zeit University political scientist.
"Hamas has a fully armed militia and Abbas would not be able to control it," Harb said.
Before it's here, it's on the Bloomberg Terminal.
LEARN MORE