Do Customers Even Care About Amazon's Hard-Nosed Negotiations?
By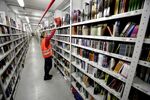 Amazon is once again making it harder for anyone to buy certain items on its website—a counterintuitive tactic for a people-pleasing retailer, though it's one that doesn't seem yet to be stoking much backlash among shoppers.
The New York Times reported on Tuesday night that Amazon isn't allowing pre-orders for DVDs released by Warner Home Video, including such highly-anticipated hits as The Lego Movie. The news comes several weeks after the retail giant stopped taking advance orders and delaying shipments for books published by Hachette. In both cases, Amazon is in negotiations over terms with the supplier in question and is doling out punishment by making purchases annoying for customers.
Amazon seems stuck between two of its defining characteristics here: the company's famous devotion to pleasing customers by selling them anything they want at the cheapest possible price and an equally famous refusal to give an inch when negotiating business deals. When news of the Hachette dispute broke, a widely echoed sentiment argued that Amazon's tendency to play chicken with business partners could hurt its reputation with customers. Same goes for the Warner dust-up: "Oh well, Amazon may be digging their own grave if they keep this up," writes one person on Amazon's product page for The Lego Movie.
Is it? People selling things seem more aware of Amazon's actions than those buying things. Anyone who has shopped online is familiar with the inconsistent availability of items at any given time. Even if someone ends up leaving Amazon to buy a book or movie from a rival website, that won't necessarily generate hostility toward Amazon. If these disputes continued to expand, shoppers over time might come to see Amazon as a less-than-comprehensive place to shop. But it's not as if Amazon is leaving gaping holes in its catalog right now. Maybe you can't pre-order The Lego Movie DVD, but you can buy a streaming version of the same film from Amazon.
A comment thread on Amazon.com under the subject line "Why isn't this available for pre-order?" has less than 20 comments, and many people seem more confused than angry. If there were really a groundswell of public sentiment, the media probably would have gotten wind of this weeks ago, when Amazon stopped accepting pre-orders for Warner movies.
The Hachette dispute has been noisier. Several competitors immediately began offering discounts on the publisher's books, and famous writers such as James Patterson and Malcolm Gladwell have criticized the company publicly for its behavior. Yet a survey by research firm YouGov showed practically no change in public perception of Amazon, which was the pollster's best-perceived brand in the U.S. last year. Amazon also ranks at the top of the American Customers Satisfaction Index.
Some think that the way for publishers to change this is to beat Amazon at its own game, pulling all their titles and making it clear why they're doing so. That would be very likely to grab attention. The outcome of the ensuing standoff would probably come down to which side needs the other more. That seems a risky bet for the publishing industry.
Before it's here, it's on the Bloomberg Terminal.
LEARN MORE