California School-Tenure Ruling Turns the Tables on Teachers' Unions
By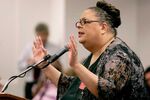 Karen Lewis, president of the Chicago Teachers Union, became a hero to public school educators nationwide when she called a strike in 2012 rather than bend to the will of Rahm Emanuel, the city's reformist mayor who controlled the district—or thought he did.
Around the country, teachers' union presidents have embraced Lewis's argument that they are waging a populist battle on behalf of urban school students. "When will there be an honest conversation about poverty and racism and inequality that hinders the delivery of an education product in our school system?" Lewis asked in a speech last year. "When will we address the fact that rich white people think they know what's in the best interest of children of African Americans and Latinos, no matter what the parents' income or education level?"
Lewis and her supporters may need to rethink their arguments after California Superior Court Judge Rolf Treu's tentative ruling (PDF) on Tuesday that minority students have indeed been discriminated against—not in the way Lewis describes, but by state laws that allow public school teachers to secure lifetime tenure after less than two years. As my Bloomberg News colleague Edvard Pettersson succinctly wrote:
Judge Rolf Treu in his tentative ruling found that low-income and minority students are disproportionately stuck with `grossly' ineffective teachers, leading him to conclude the challenged laws violate the students' fundamental right to equality of education.
Treu declared the tenure laws unconstitutional and went so far as to draw parallels between his opinion and the U.S. Supreme Court's decision in the landmark 1954 Supreme Court case, Brown v. Board of Education, striking down "separate but equal" laws in the nation's schools. California's largest teachers unions promised to appeal the decision.
Joshua Pechthalt, president of the California Federation of Teachers, pointed out that the lawsuit, brought by nine public school students, was backed by Silicon Valley entrepreneur David Welch. Pechthalt said Treu was swayed by "anti-union, anti-teacher rhetoric." Still, the judge's decision undercuts the moral case Lewis and her supporters have been making for tenure, namely that children are better served by teachers who don't have to worry about getting fired.
The ruling may embolden conservative politicians to take a tougher line against teachers unions, inspiring lawsuits in additional states to knock down laws that make it hard to fire poor educators.
That's not as bad as it may sound for teachers. Many districts would gladly raise good teachers' pay if union leaders would agree to rules making it easier to dismiss ineffective instructors. In many cases, unions have resisted such concessions. That will be be more difficult to do, now that the ground is shifting beneath their feet.
(
Corrects the name of the California Federation of Teachers in the sixth paragraph.
)
Before it's here, it's on the Bloomberg Terminal.
LEARN MORE