Anadarko Reaches New High Amid Speculation of Takeover
Zain Shauk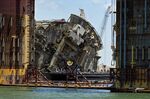 Anadarko Petroleum Corp. jumped to a record high on speculation the global oil and natural gas producer may be on the brink of a takeover.
Anadarko climbed 4.2 percent to $108.32 at the close in New York after Theflyonthewall.com reported "takeover chatter" today surrounding The Woodlands, Texas-based company. Anadarko's settlement of a long-running pollution case in April helped clear the way for suitors for a company that has long been viewed as a likely target for one of the major international oil companies such as Exxon Mobil Corp.
"It's just the start of summer and guys are kind of out there flogging the old reliable story that Exxon's about to buy somebody really cool," Andrew Coleman, a Houston-based analyst for Raymond James & Associates Inc., said in a phone interview. Anadarko has "an asset base that would be coveted by any large player looking to make that kind of a splash. The question would be, is now the time for that? And that's a question for guys in pinstripe suits."
Anadarko has soared 26 percent since it agreed with the U.S. Justice Department in early April to pay $5.15 billion to clean up 85 years worth of pollution left behind by its Kerr-McGee unit. Built for a potential sale by former Chief Executive Officer James Hackett, a renowned deal maker, the $54.7 billion company may have outgrown all but a few possible buyers.
Stock Rally
John Christiansen, an Anadarko spokesman, said in a phone interview that the company doesn't comment on rumors. Exxon also declined to comment.
The stock has rallied for the past six days, the longest streak since July 2012. About 11.7 million Anadarko shares changed hands as of 4:15 p.m. in New York, compared with average daily trading of 4.7 million this year, according to data compiled by Bloomberg.
Anadarko shares are up 37 percent this year, compared with a 5.2 percent advance in the Standard & Poor's 500 Index.
Options trading on the stock jumped as Anadarko advanced. More than 99,000 contracts betting on a rise in the shares traded today, nine times the 20-day average, data compiled by Bloomberg show. Calls that will be profitable if Anadarko reaches $120 by January have the highest ownership.
Anadarko would probably be at the top of the list for multinational oil companies seeking purchases to turn around years of declining production, David Neuhauser, managing director of investment firm Livermore Partners, said in December. A buyer would get a presence in fields including the Niobrara formation in Colorado, Texas's Eagle Ford shale basin, and offshore Africa.
Shale Output
In addition to expanding in deep-water offshore assets in Africa and the Gulf of Mexico, Anadarko has seen surging U.S. output with projects such as Colorado's Wattenberg field, which includes the Niobrara and Codell formations. The company is targeting compound annual production growth of 5 percent to 7 percent over the next decade.
Multinational oil companies struggling with production declines could solve the problem by making a sizable acquisition, said Neuhauser with Livermore Partners, which focuses on undervalued energy companies.
Exxon, Chevron Corp., BP Plc, Total SA, ConocoPhillips and Royal Dutch Shell Plc all would have been suggested as potential acquirers of Anadarko to gain access to its portfolio of projects around the world.
Before it's here, it's on the Bloomberg Terminal.
LEARN MORE