pursuits
Rangers Collapse Drains Cash Out of the Stanley Cup Finals
By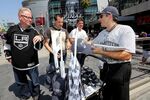 If the Rangers lose the Stanley Cup on Wednesday in a four-game sweep, there will be one bit of comfort for New York hockey fans: Los Angeles will miss out on a heap of money. Games 5 and 7, which may not be necessary, are scheduled for California's Staples Center, while Madison Square Garden would miss out only on Game 6.
Concession sales typically double in the playoffs, and merchandise revenue climbs fourfold, according to Patrick Rish, an economist at Webster University. In 2012, when the New Jersey Devils lost the Stanley Cup in Game 6, the club's playoff run garnered $32 million in additional revenue, according to analysis by the Star-Ledger. Here's the breakdown of the team's 30-game post-season run:
• $26.2 million in tickets
• $3.8 million in concessions
• $1.1 million in sponsorships
• $1 million in merchandise
On a per-game basis, the home team can expect to lose out on at least $1 million for every playoff game that isn't needed. In the finals, the number jumps to around $2 million, according to Forbes. And that doesn't account for additional broadcasting and advertising revenue, which can come to a further $1.5 million per game, according to a 2011 analysis by Crain's New York Business.
In terms of ratings, the current Stanley Cup hasn't been a total wash. The second game drew a record 6.4 million viewers, the most in at least 20 years. But attention likely waned for Game 3, and ticket prices are sliding. Tonight it's fair to say most of the New York market will tune out, save for superfans—and even those folks might not be able to bring themselves to watch.
Still, another way to look at the Rangers dismal playoff run is that the team might have been knocked out far earlier. The Rangers have enjoyed seven lucrative home games since surviving a decisive Game 7 against Philadephia; four contests in their Manhattan home since beating Pittsburgh in a second Game 7; and one showdown in the Garden since dismissing Montreal.
The Rangers host at least one more contest tomorrow. If they lose, Madison Square Garden executives can at least take solace that the home team didn't sweep any rivals early on.
Before it's here, it's on the Bloomberg Terminal.
LEARN MORE