RadioShack, Short on Shoppers, Crowdsources Inventory
By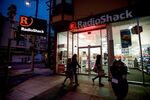 Despite a clever Super Bowl ad, RadioShack's business continues to crack up faster than a radio-controlled car.
On Tuesday morning the company posted a 13 percent drop in sales, a tightening operating profit margin, and a widening loss of $98 million. The long-suffering retailer blamed the crummy results on an industry-wide slowdown in consumer electronics and big mobile phone subsidies from cell-service companies. The fact that it is still talking about cell phones at all is likely troubling to shareholders.
­Never fear, however. RadioShack has a plan. It's going to find the next Walkman by crowdsourcing invention ideas. That's the thrust of its new partnership with PCH, an Irish company designed to help startups manufacture hardware and build out their supply chains.
Specifically, RadioShack and PCH are asking would-be gadget geniuses to submit ideas for review via a Web site. Each year, it hopes to greenlight dozens of the pitches and quickly route the concepts to factories and onto shelves at some 2,000 stores. The hardware also will get preferred positioning on RadioShack's Web store.
It's an interesting and laudable idea. These days, there are really only two ways to defend market share in the gadget game (or retail in general, for that matter): offering helpful advice and selling stuff no one else has. Partnering with startups could give RadioShack some of that precious inventory—goods that Amazon.com's, Apple's, and Walmart's crushing economies of scale have yet to bear down on. The structure will basically turn RadioShack into a kind of VC firm—only instead of investing money, it will offer shelf space.
"The goal here is to drive differentiation and newness," RadioShack CEO Joe Magnacca said on a conference call Tuesday. "We are developing a vast tech capability that is designed to allow us to have a continuous flow of new merchandise shipped directly to our stores."
RadioShack has a similar deal sourcing "smart toys" from Quirky, a New York-based hardware incubator that has a partnership with General Electric. In that arrangement, GE licenses idle patents to Quirky's network of inventors and shares the revenue when the gadgets are created. The industrial conglomerate also bought a $30 million stake in Quirky.
RadioShack, meanwhile, is short on details about how intellectual property and revenue will be split with its new small-scale suppliers. Perhaps more troubling, any entrepreneur with a great idea might be reluctant to share it with a fast-crumbling retail empire. A RadioShack tie-up could impart the stale musk of struggle at a time when there are plenty of other decent alternatives to go with. Outlets like Kickstarter, Shopify, and Etsy have made it easier than ever before to make a product and take it to market.
Tictail, a Sweden-based company, has helped more than 45,000 inventors and small businesses set up simple Web stores. It's run by a young, stylish Swede named Carl Waldekranz. "Our dream is not to land Nike," he recently said. "It's to land the next Nike." When Waldekranz lists Tictail's competitive threats, RadioShack is not among them.
Before it's here, it's on the Bloomberg Terminal.
LEARN MORE