Putin's Tigers, Bono's Piano: Odd-Facts From Clinton Book
Greg Giroux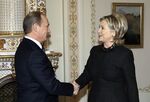 Hillary Clinton played "bad cop" with Israeli Prime Minister Benjamin Netanyahu, and the piano with Bono in South Africa. She talked about technology over Lithuanian beer, and about wildlife conservation in Russia to get President Vladimir Putin's attention.
These are among the unusual tidbits in Clinton's memoir, "Hard Choices," due out today. The book mostly covers her experiences as President Barack Obama's Secretary of State from 2009 to 2013.
The book comes as the former first lady and U.S. senator from New York weighs a decision about a 2016 presidential campaign. She's said she'll make up her mind about a candidacy by year's end.
Bad Cop
Clinton writes that she had a "long and heated telephone conversation" with Netanyahu in March 2010 after a dispute over Israeli building in east Jerusalem threatened to derail peace talks with the Palestinians. The Israeli plan, which was announced when Vice President Joe Biden was visiting the nation, strained relations between the U.S. and Israel.
Obama and Rahm Emanuel, then the White House chief of staff, "were furious, and they asked me to make that clear to Bibi," Clinton writes. "I didn't enjoy playing the bad cop, but it was part of the job."
Netanyahu is "a complicated figure" and a partner and friend with whom she "argued frequently, often during phone calls that would go on for over an hour, sometimes two."
Mandela and Chelsea
Nelson Mandela, South Africa's first black president, and Clinton's daughter Chelsea Clinton "developed a special bond" until his death in December 2013, Clinton writes.
When he and former President Bill Clinton spoke by phone, Mandela "would ask to talk to Chelsea, and he stayed in touch with her as she went off to Stanford and Oxford and then moved to New York."
Tinkling Ivories
After the public ceremony honoring Mandela's life, Irish singer Bono joined the Clintons at their hotel to play a song on a "big white piano" to honor the South African leader.
"I'm no Condi Rice on the piano, but Bono was generous enough to let me sit next to him and hit a few keys, which delighted my more musical husband," Clinton writes.
Rice, Clinton's Republican predecessor as secretary of state, is a classically trained pianist, and Bill Clinton was a tenor saxophone player in high school.
Twisting Arms
Clinton pressing the Senate in 2010 to approve a nuclear-arms reduction treaty with Russia was "my first experience twisting arms on behalf of the White House" since leaving the chamber, she says in the book.
With the outcome of the treaty uncertain in late 2010, Senator Richard Lugar, an Indiana Republican who formerly led the Foreign Relations Committee, urged Clinton to come to Capitol Hill "to make the final sale." The Senate approved the treaty. In 2012, Lugar was defeated in a Republican primary in part because he was willing to work with Democrats.
Putin's Tigers
In March 2010, Clinton visited Putin at his dacha outside Moscow to talk about trade. Their conversation stalled, so Clinton says she appealed "in exasperation" to his interest in wildlife conservation. "Tell me about what you're doing to save the tigers in Siberia," Clinton says she told Putin.
Putin led her down a corridor past surprised security guards to his private office, where he showed Clinton a big map of Russia and expanded on the fate of tigers, bears and other endangered species. Putin asked Clinton if her husband would tag polar bears with him in the Arctic archipelago of Franz Josef Land.
"I told him I'd ask, and that if he couldn't go, I'd check my schedule. Putin raised an eyebrow in response," Clinton recalls.
The Russian president was "deeply resentful of the U.S. and suspicious of our actions," Clinton says she told Obama in a memo in June 2012, when he and Putin met at a Group of 20 Summit in Mexico. "Bargain hard," Clinton says she advised, because Putin will "give no gifts."
Bathroom Intrusion
Richard Holbrooke, the late U.S. diplomat who was Bill Clinton's mediator to end war in Bosnia in the 1990s, was a "force of nature," a "large and imposing figure, bursting with talent and ambition" who wielded a "bulldozer style," Clinton says in the book. Holbrooke once followed Clinton into a ladies' restroom in Pakistan to finish a thought.
TiVo Connection
In 2012, Clinton missed the Democratic National Convention for the first time since 1976.
As Bill Clinton spoke in Charlotte, North Carolina, she was about 10,000 miles away in Timor-Leste. She watched his speech on the U.S. ambassador's home computer after Clinton aide Philippe Reines connected it to his TiVo in Washington.
Beer and Technology
In June 2011, Clinton teamed up in Lithuania with executives from Twitter Inc., Facebook Inc., Microsoft Corp., and Skype Inc. to teach 80 political activists from 18 countries how to use technology to circumvent government censorship of speech.
During the "Tech Camp" trip, Clinton had dinner in Vilnius, drinking Lithuanian beer with a U.S. delegation that included Alec Ross, a senior adviser to Clinton whom she recruited after he ran outreach to Silicon Valley for Obama's rival 2008 presidential campaign.
"I myself am not the most tech-savvy person - although I surprised my daughter and my staff by falling in love with my iPad, which I now take everywhere I travel," Clinton writes.
Pantsuits Sisterhood
Three. The number of times Clinton joked with David Letterman about wearing pantsuits, by her count.
"In politics a sense of humor is essential," she says. "There are countless reasons why you have to be able to laugh at yourself."
'Dead Wrong'
Clinton says she came to "deeply regret" her October 2002 Senate vote to authorize President George W. Bush to conduct military operations in Iraq.
"I thought I had acted in good faith and made the best decision I could with the information I had. And I wasn't alone in getting it wrong," Clinton writes. "But I still got it wrong. Plain and simple."
Before it's here, it's on the Bloomberg Terminal.
LEARN MORE