Norway Commits to Slow Cut of $65 Billion Stake in Statoil
Saleha Mohsin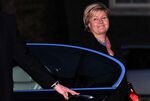 Norway's government said it won't rush any reduction of its $65 billion stake in Statoil ASA, the largest company in western Europe's biggest energy producer.
The policy will also apply to a number of Norway's other big companies in which the government is an owner, Trade and Industry Minister Monica Maeland said yesterday in an interview in Oslo. Those include Telenor ASA and Norsk Hydro ASA.
"We don't want to move too quickly and we want to make sure we find the right owners and keep the value of what we own," Maeland said. "Norway will always own a large amount of the companies we have a stake in, but we're looking at allowing more private ownership."
The government is due to publish a proposal next week outlining which companies it will invest less in and how the divestments will be carried out. Maeland, who took office in October, has met with representatives from companies including Telenor, the largest Nordic phone company, Cermaq ASA, a salmon producer, and Statkraft AS, Europe's largest renewable energy producer, to gather information for the review.
Prime Minister Erna Solberg, whose Conservative-led minority government ousted a Labor-led coalition in September, said in August her administration would seek to cut its stake in Statoil to 51 percent from 67 percent.
Wealth Fund
The company, based in Stavanger on Norway's west coast, operates about 80 percent of the country's oil and gas production. Shares in Statoil fell 0.3 percent to 182.9 kroner today in Oslo.
Besides its large state holdings in energy firms, Norway has also built up an $880 billion sovereign wealth fund to prevent its fossil fuel riches from overheating the economy.
Before becoming prime minister, Solberg signaled her government would seek a one-third ownership stake in Telenor and aluminum producer Norsk Hydro. Norway's government owns 34.3 percent of Hydro and 54 percent of Telenor, according to data compiled by Bloomberg.
"There is no plan to move very, very quickly on anything," Maeland said. "It's about finding the right timing and right opportunities."
Norway owns about 59 percent of Cermaq, 34 percent of DNB ASA, the country's biggest bank, 14.3 percent of Nordic airline SAS AB and 36.2 percent of fertilizer maker Yara ASA.
Before it's here, it's on the Bloomberg Terminal.
LEARN MORE