Al-Qaeda Offshoot Seizes Iraq's Second City in Threat to Maliki
Glen Carey and Khalid Al-Ansary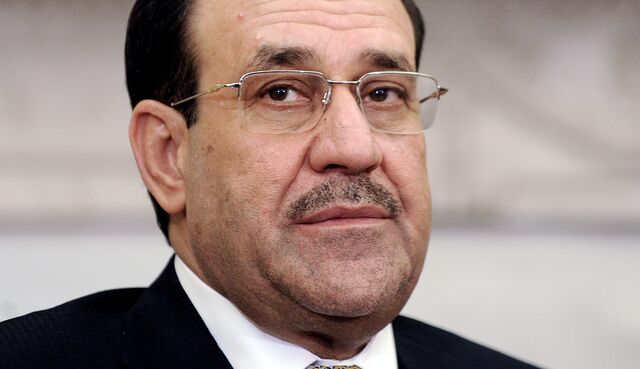 Fighters from a breakaway al-Qaeda group seized control of Mosul, Iraq's second-biggest city, driving out government forces and highlighting Prime Minister Nouri al-Maliki's weakening grip on the country.
The city is entirely in the hands of the Islamic State of Iraq and Levant, or ISIL, with no army or police presence remaining, Noureddin Qablan, the vice chairman of Nineveh provincial council, said by phone late yesterday. Maliki called for parliament to declare a state of emergency, and pledged swift action to recapture the city in a televised speech.
Television pictures showed burning cars and fleeing citizens. There were reports that ISIL fighters had also seized towns in the neighboring provinces of Salahuddin and Kirkuk, the latter a center for oil production. Kurdish armed forces from the semi-autonomous north of Iraq have moved in to bolster security at the Kirkuk oilfields and on the Syrian border, according to Qablan and statements from Iraq's police.
The fall of Mosul, which follows the takeover of Fallujah by ISIL fighters in January, shows how Syria's civil war is spilling over and exacerbating Iraq's sectarian rifts. Maliki's Shiite-led government has failed to ease the tensions, and is increasingly struggling to retain control of Sunni-majority regions of the country, OPEC's second-biggest oil producer, since the U.S. withdrew troops in 2011.
Bodies Scattered
"Maliki is on the ropes in the north if this starts to spread further," Paul Sullivan, a Middle East specialist at Georgetown University in Washington, said in response to e-mailed questions. "If the militants hold Mosul and can build a base there, then they will try to spread into other areas of the north."
ISIL fighters took control of Sulaiman Bek, a town between Kirkuk and Salahuddin, the al-Mada news agency said. Tribal gunmen allied to the group seized Baiji, north of Baghdad and home to Iraq's biggest refinery, Al-Jazeera television said.
In Mosul, gunmen drove 4-wheel pickup trucks with machine guns bolted on top and black flags hosted above, said Khalid al-Mosuli, a 36-year old city resident, in a phone interview.
"Security forces army and police fled their posts," he said. "Dead bodies are scattered around western Mosul due to the fighting. The city is empty and most shops are closed."
'Coordinated Response'
ISIL is among the mostly Sunni groups fighting to topple Syria's President Bashar al-Assad. It established semi-permanent encampments in desert areas of western Iraq, especially in Anbar and Nineveh provinces, to provide secure bases for its fighters in Syria, the State Department said in an April report.
The U.S. supports "a strong, coordinated response to push back against this aggression" and is ready to assist Maliki's government, State Department spokeswoman Jen Psaki said in an e-mailed statement. "ISIL is not only a threat to the stability of Iraq, but a threat to the entire region."
The group's firepower will be strengthened by the equipment it has access to after seizing army bases in Mosul, cash from the city's banks, and the release of 2,500 fighters from local jails, Eurasia Group, a New York-based political risk analyst, said in e-mailed comments.
The militants captured the headquarters of the army's third regiment after a three-day siege, killing all the soldiers inside, al-Mada reported.
The increase in sectarian violence recalls the mass killings in the years that followed the U.S. invasion of 2003. Civilian fatalities in Iraq, including police, reached 7,818 last year, exceeding the 6,787 killed in 2008, according to the United Nations Assistance Mission for Iraq.
Investment Halt
The fighting in Mosul has halted repair work on the main oil pipeline to Turkey, state-run North Oil Co. said. Shipments through the Kirkuk-Ceyhan pipeline, the target of frequent attacks, have been stopped since March 2.
Iraq produced 3.3 million barrels of oil a day in May, making it the second-largest producer in the Organization of Petroleum Exporting Countries after Saudi Arabia.
"Taking over Mosul will likely halt investment in oil and gas in that area," Sullivan said. "Who wants to drop hundreds of millions or billions in a place where ISIL could attack at any moment?"
Still, Iraq's oil export volumes may not be materially impacted, as there's no immediate threat to security in the southern provinces that account for the majority of reserves, according to Eurasia Group.
OPEC can make up for any shortfall, since other members have spare capacity, United Arab Emirates Energy Minister Suhail Al Mazrouei said in an interview in Vienna late yesterday.
Before it's here, it's on the Bloomberg Terminal.
LEARN MORE