Knicks Coach Fisher Says His Style of Play Readied Him for Job
Mason Levinson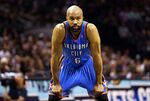 Derek Fisher said his ability to overcome shortcomings in talent by understanding basketball will more than compensate for an absence of coaching experience when he takes charge at the New York Knicks.
"Preparing myself for coaching and being the head coach of an NBA basketball team is something that started at six years old," Fisher said. "The only reason I've been around for 18 years is that I've thought the game as a coach."
Fisher, 39, ended an 18-year National Basketball Association playing career today to become the first head coaching hire of Knicks President Phil Jackson. The team didn't disclose terms of the contract, which Yahoo! Sports said is worth $25 million over five years, without revealing where it got the information.
Jackson joined the Knicks in March and fired Mike Woodson the following month. Jackson has since been searching for a coach capable of running a system such as the triangle offense he used to win a record 11 championships as coach of the Chicago Bulls and Los Angeles Lakers.
Jackson's first choice, former Bulls guard Steve Kerr, who also had no coaching experience, spurned the Knicks to join the Golden State Warriors. Jackson then turned to Fisher, who won five championships in nine seasons under Jackson at the Lakers.
'Learning Process'
"Derek's in a learning process, but we think that his experience for the last three or four years has been one more of an assistant coach/player role and he's learned under some of the best coaches," Jackson said at a news conference at the Knicks' training facility in Tarrytown, New York.
Among the attributes that Jackson said most impressed him about Fisher were his preparation and readiness, even when coming off injury, and his ability to excel under the pressure of the playoffs.
"More than anything else it was the ability of Derek to speak the truth from what the sense of the group was," Jackson said.
Jackson will now focus on building his roster, a key aspect of which will be convincing All-Star forward Carmelo Anthony not to opt out of his contract and become a free agent this summer. Jackson said the team is planning to meet with Anthony and his representatives "in the near future."
Anthony, 30, missed the playoffs for the first time in his 10-year career after averaging 27.4 points and 8.1 rebounds per game this season.
'Top Player'
"Carmelo is one of the top players not only in the NBA, but in the world," Fisher said, echoing Jackson's comments. "We want him to be here, but ultimately it's his choice."
The Knicks followed a 54-28 record in 2012-13 under Woodson by going 37-45 this season. The finish, 11 games behind the Atlantic Division-winning Toronto Raptors, kept New York out of the playoffs for the first time in four seasons.
Fisher, the former president of the National Basketball Players Association who helped oust former union Executive Director Billy Hunter last year, played the 2013-14 season with the Oklahoma City Thunder, averaging 5.2 points per game. For his career, Fisher averaged 8.3 points, three assists and 2.1 rebounds per game.
Fisher is the NBA's all-time leader in playoff appearances, with 259. Since the 1996-97 season he has 161 postseason wins -- 121 more than the Knicks, according to ESPN.
The NBA fined Jackson $25,000 this month for telling reporters that Fisher was "definitely a person on my list, who could be a very good candidate for this job" while Fisher was under contract with the Thunder.
Triangle Offense
Fisher said the triangle, an offensive system where players are asked to read defenses and react by making the proper pass, is one that he knows well, though he'll use whatever system works best for his roster.
"I love the triangle," Fisher said. "With the roster we have, we can utilize it."
Jackson, 68, has ruled out a return to the bench due to his health, though he's been conducting player workouts and said he's "willing and ready" to provide Fisher advice.
"It's not my role to be on the court," Jackson said. "This is where a young man steps in and has the energy to lead the team forward."
Knicks owner James Dolan, the executive chairman of Madison Square Garden Co. who said when hiring Jackson that he would "willingly and gratefully" cede control of the team, wasn't involved in the hiring of the 26th head coach, Fisher said.
"We were together at the Rangers' game last night and we didn't have a single conversation about Derek or this event today," Knicks General Manager Steve Mills said of Dolan.
Before it's here, it's on the Bloomberg Terminal.
LEARN MORE