The Deeper Meaning of Uniqlo's Price Hike
By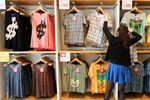 In Japan's current Alice-in-Wonderland economy, higher prices, stiffer taxes, and general consumer pocketbook pain are, kind of, the nation's goals. So the news that Fast Retailing Co's Uniqlo, Japan's biggest clothing store chain, will lift prices by around 5 percent in its home market was huge news. Prices in other industries, from utilities to wheat producers, are also creeping up. Banzai!
That's the way it goes in Japan's deflation nation. For the last 15 years or so, the country has been locked in a vicious circle of declining consumer prices, wages, and jobs growth. One of the aims of Prime Minister Shinzo Abe's three-pronged policy to revitalize the country with a mix of radical monetary easing, fiscal stimulus, and pro-growth measures is to generate annual inflation of 2 percent or so. The idea is that higher prices will increase corporate earnings and lead to wage increases and more robust consumer spending going forward.
There are just two problems: First, household incomes haven't gone anywhere for years, and it may be tough for Japanese shoppers to move beyond their bargain-seeking mentality—the kind of thinking that, incidentally, turned Uniqlo into an international retailing powerhouse and its chairman, Tadashi Yanai, into the richest man in Japan.
Second, Abe is trying to simultaneously reflate Japan and get the country's gargantuan debt load, expected by the International Monetary Fund to reach 242 percent of gross domestic product this year, under control. That's why Abe's government raised the nation's consumption tax to 8 percent, from 5 percent, in April.
Whether Japan pulls out of its funk depends a lot on whether consumers can see through the short-term pain to the long-term payoff of smashing the deflationary syndrome once and for all. If inflation gets too far ahead of wage growth, the whole Abe magic act could collapse.
Japanese growth accelerated to an annualized 6.7 percent in the first three months of the year as consumers and businesses front-loaded spending ahead of the April 1 tax increase. The economy is expected to contract 3.5 percent this quarter before expanding 2 percent in the July-September period, according to a Bloomberg News survey.
Later in the year, economists should get a better read on whether Uniqlo's price hike is a sign of economic recovery or more trouble ahead. Here's hoping Abenomics expels deflation from the kingdom.
Before it's here, it's on the Bloomberg Terminal.
LEARN MORE