Inside JetBlue's First-Ever Business-Class Cabin
By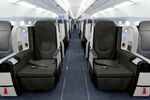 The most lucrative airline route in America—New York to Los Angeles—is about to get a new business-class carrier: JetBlue Airways, better known for spacious coach seats and free blue potato chips.
The airline's new premium cabin, dubbed Mint, makes its debut Sunday morning for a Los Angeles-bound flight on the first of 11 larger planes that will form the backbone of JetBlue's bid for the business elite shuttling between coasts. The Mint flights will expand to San Francisco in October. JetBlue is hoping to spur new demand among lower-end business travelers who don't want to spend the thousands of dollars first- and business-class seats command on the other domestic airlines flying nonstop between New York and California. If it works, the Mint cabin is likely to be added to JetBlue's transcontinental flights from Boston in 2015.

The 16 lie-flat premium seats on each Airbus A321 cost from $599 to $999 for a one-way flight, and it's likely that JetBlue will raise those prices over time as travelers become familiar with Mint. "It can bear a lot more," Jamie Perry, JetBlue's director of product development, says of Mint's prices. "That doesn't mean we can charge it."
For years, JetBlue has shuttled passengers from its New York-JFK Airport base to California with only a coach cabin. During that time, rival airlines began staging an amenities arms race to lure corporate customers and wealthy travelers—the people for whom a $7,000 round-trip flight isn't prohibitive.
In a search for a one-way, business-class flight from JFK to LAX on Aug. 22, JetBlue's Mint seat was lowest at $599, followed by Delta's $799 offering. Premium fares from United and American both exceeded $1,000, and Virgin America sought $1,419 for a first-class seat. The most expensive fare, a first-class seat on American's new A321s, carried a $2,925 price tag.

Those are the kinds of fares JetBlue thinks Mint can disrupt. And with only 176 premium seats in its fleet so far, the revenue experiment doesn't require an enormous investment. The airline is also hoping to collect more revenue from its cabin because it will sell all the seats and avoid the upgrades doled out by larger airlines such as American and Delta.
Of greater note to the flying masses will be the slimmer leather seats JetBlue has introduced on the A321s, which will also extend to its fleet of A320s. The configuration puts each seat an inch closer together, packing more people on the plane. But there's good news for the non-Mint travelers too: The more cramped conditions come with free high-speed Internet and a 10.1-inch touchscreen monitor, far larger than the 6-inch screen on current JetBlue seats. The airline is testing the touchscreen this year, Perry says, and ultimately hopes to remove the screen controller in the seat armrests.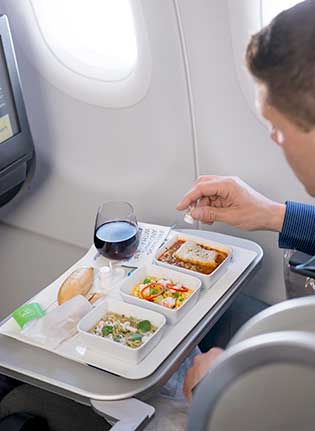 JetBlue held a brunch for reporters Tuesday aboard the first new plane. In keeping with the airline's custom of cute names, the new A321 reporters sampled is called "It's Mint to Be." The menu in-flight in the premium cabin begins with a honey-infused limeade served with or without vodka, and, of course, a fresh sprig of mint. The menu continues with an amuse-bouche of goat cheese, peppers, and cucumbers and five tapas-style dishes paired with a five-bottle wine list, a half-dozen beers, and five liquors.
The company has spent months training flight attendants who will staff the new cabin and tweaking the menus, which were devised with help from the Manhattan restaurant Saxon + Parole. About 140 flight attendants will be trained to work the Mint cabins this year.
The dark leather seats have a BMW look and extend into flat beds that are 6-feet-8 inches long. The seating arrangement places a single seat between rows of two, allowing more privacy for solo travelers. Those single seats offer a small "privacy door" that can be closed while sleeping. JetBlue also installed a "sleep service" button so a Mint passenger can advise the crew that she'd like to be woken for meals and drinks.
Will the new cabin work financially? Can JetBlue's value-conscious appeal—friendly staff, nice product, reasonable prices—attract people who might spring for an $800 ticket as opposed to a $400 seat in coach? Analysts are divided on Mint's chances for success. Skeptics point to the higher costs and the frequent-flyer programs keeping many regular business travelers wedded to the bigger airlines.

In a recent client note, Cowen analyst Helane Becker called Mint "mysterious" because each seat in the cabin occupies the same space as three JetBlue coach seats—a strategy that raises operating costs. "It will be interesting to see how this product evolves," she wrote.
Before it's here, it's on the Bloomberg Terminal.
LEARN MORE