If Scotland Goes Independent, Scotch Makers May Need a Drink
by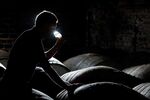 Voters in Scotland will decide in September whether to end a three-century membership in the United Kingdom and strike out as a separate nation. Much of the vigorous debate on this referendum has turned on the array of economic considerations for an independent Scotland, from pensions and public services to university costs and European Union membership. Even the presence of nuclear weapons has come under scrutiny.
And then there is the significant question of what will become of Scotland's second-largest export: whiskey.
More than 90 percent of Scotch is sold abroad, worth about £4.3 billion ($7.2 billion) and 35,000 jobs in 2013, according to a new report on the ramifications of independence from analysts at Bank of America Merrill Lynch. Scotch whiskey is sold in some 200 countries, led by France, America, and the U.K.
The chief risk for Scotch distillers would be a lack of market insight into the nation's currency and the risks associated with it. "The uncertainty over an independent Scotland's future currency could leave the Scotch industry exposed to greater [foreign-exchange] volatility, potentially impacting exports and pricing decisions," according to the report. Scotch invoices are priced in U.S. dollars, which causes exporters typically to hedge their exposure to sterling-dollar swings with 12-month positions. "A volatile currency," analysts warn, "would likely be more difficult and expensive to hedge, making pricing and planning decisions harder."
Scotch also enjoys an enormous marketing advantage due to the U.K.'s large network of embassies, trade offices, and consulates abroad. That advantage could be lost should Scotland need to forge its own presence overseas. Scotch could lose some of its marketing clout, predicted Mark Brown, a native Brit who now serves as president and chief executive of Kentucky's Buffalo Trace distillery.
Brown was in New York City last week for a bourbon tasting with spirits writers and was asked about his view of how an independent Scotland may affect the namesake whiskey. "Would they promote it the same?" Brown wondered of British embassies, predicting that a separatist Scotland would likely hurt sales of the liquor.
Scotch accounts for roughly 30 percent of sales at Diageo, the maker of Johnnie Walker, Cragganmore, Lagavulin, and Talisker brands. At Pernod Ricard, Scotch represents about 22 percent of sales, led by the Glenlivet, Aberlour, and Longmorn single-malt brands. Both sides are marking 100 days on Tuesday until the September 18 vote.
Before it's here, it's on the Bloomberg Terminal.
LEARN MORE