Dutch Seek Safeguard Law Against Telecoms Acquisitions
Elco van Groningen and Martijn van der Starre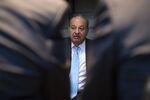 The Dutch government plans to create a law that will safeguard national security if a local telecommunications operator such as Royal KPN NV receives a takeover approach, Minister of Economic Affairs Henk Kamp told parliament.
The law, which will probably be proposed in early 2015, would allow the state to intervene if a potential acquisition of a Dutch company is deemed to threaten parts of the national network, Kamp wrote in a letter to lawmakers yesterday. The plan is a response to parliamentary questions following last year's failed 7.2 billion euro ($9.7 billion) takeover attempt of KPN by billionaire Carlos Slim's America Movil SAB.
Slim's attempt to buy The Hague-based KPN floundered after an independent foundation built a blocking stake, causing the Mexican company to withdraw its plans in October. America Movil still held a 24.8 percent stake in KPN as of April 16. It hasn't made a final decision on what to do with its interest, Chief Financial Officer Carlos Garcia-Moreno said that month.
The proposed new law won't make it easier to acquire a company, Martijn den Drijver, an Amsterdam-based analyst at SNS Securities, wrote in a note to clients. "At least concerned/interested parties know where they stand, what to expect and whom to contact."
KPN shares fell 0.8 percent to 2.74 euros as of 11:56 a.m. in Amsterdam. The shares have gained 17 percent this year, making them the biggest riser in the AEX-Index and valuing the company at 11.7 billion euros.
National Security
"There are interests of national security at stake in the telecommunications sector," Kamp wrote in the letter. "This refers primarily to the potential failure and/or misuse of telecommunications infrastructure."
Interested parties will still be allowed to take a stake in a Dutch telecommunications operator, Kamp said. They would then need a so-called declaration of non-opposition from the government if they wanted to dispose of services or infrastructure on which the state and other operators are dependent, he said.
The government plans aren't intended to interfere with the objective to promote foreign investment in the Dutch telecommunications industry, KPN said in a statement. There will be a consultation process before a formal proposal to parliament, it also said.
KPN's independent foundation declined to comment on the potential new law.
"With the current legislation, the Netherlands are moving toward a framework that provides clarity and is at least similar to those in Germany, the U.K. and France," SNS's Den Drijver said.
Before it's here, it's on the Bloomberg Terminal.
LEARN MORE