Donald Sterling Never Backed Down From His War With the NBA
by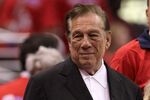 Remember when Donald Sterling was reportedly just fine with his wife Shelly's plan to sell the Los Angeles Clippers to Steve Ballmer for $2 billion? Turns out he wasn't.
Last week Sterling made some vaguely resigned remarks to the NBC affiliate in Los Angeles, and his attorney, Max Blecher, waived the white the flag. But Sterling himself never signed any agreement or dropped his lawsuit against the NBA—and now he has taken up the fight anew.
On Monday evening he released a letter calling the NBA's actions against him illegal and saying he never had any intention of selling the team. Another Sterling attorney, Bobby Samini, went on Today on Tuesday morning to argue that Sterling was being "singled out" by the league.
Both ESPN and Today are calling this a "reversal" from Sterling. It's not. As reporting from the New  York Times on the sale negotiations makes clear, Sterling never really relented in the first place.
The more interesting new development is that Sterling has changed his public spokesperson from Blecher to Samini and shifted his emphasis toward the NBA's history of gender discrimination. Samini side-stepped most of Matt Lauer's questions this morning in order to press his case against the league as a "band of hypocrites." He cited a federal jury's $11.6 million award in 2007 to the victim of sexual harassment by New York Knicks team executives; the Equal Employment Opportunity Commission's 2003 settlement with the Phoenix Suns for discriminating against female arena entertainers; and gender discrimination suits against the league itself for its treatment of female employees with young children.
The new tack from Sterling is that the NBA has a double standard on discrimination: Racist comments earn a lifetime ban while systemic misogyny goes unchecked. The league has yet to reply to a request for comment on these allegations.
Sterling's legal strategy seems like a long shot. He has to battle his wife over control of the family trust that owns the Clippers and then convince a court to wade into contract agreements that are written to preclude such involvement. In the meantime, however, he appears ready to make the process as painful as possible for the NBA.
Before it's here, it's on the Bloomberg Terminal.
LEARN MORE