A Federal Response to Navy SEAL's 'Threat Assessment' of Keystone XL
By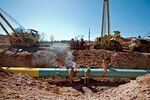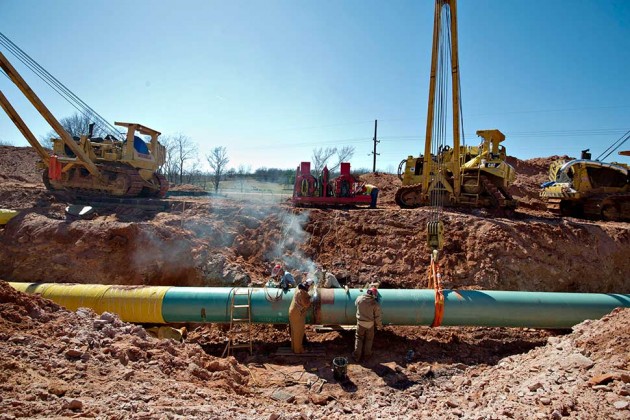 Last week we reported on a former Navy SEAL chief named David Cooper who was hired by the nonprofit group NextGen Climate to determine how vulnerable the controversial final leg of the Keystone pipeline network might be to terrorism. In a 14-page report, Cooper determined that it would be "easy to execute a catastrophic attack" on the fourth segment of the pipeline system, based on a mock attack he carried out on the completed Keystone I, or Gulf Coast Pipeline, which came online in January. He went on to describe multiple scenarios for spills ranging from 1.02 to 7.24 million gallons of diluted bitumen, the viscous, toxic, low quality oil derived from Alberta's tar sands.
Because the report was embargoed until right before its release on Wednesday, it was difficult to get a timely official response to the report from regulators. Both the Department of Homeland Security and Pipeline and Hazardous Materials Safety Administration asked to see the document but did not comment for the record. While the Transportation Security Administration declined to discuss Cooper's "most likely" or "worst case" scenarios, on Monday the TSA did provide written replies to two points the former Navy SEAL raised.
In his report, Cooper wrote of the "ancient axiom I used in the SEAL Teams: We do not rise to the level of our expectations, but fall to the level of our training.'" He asked if government officials and Keystone pipeline operator TransCanada had run drills for a coordinated response to  sabotage. Through its press officer, Ross Feinstein, the TSA says the agency reviews such matters in office meetings and that a fuller response to such an act of terror lies outside its jurisdiction:
"Under TSA's Intermodal Security Training & Exercise Program (I-STEP), TSA conducts tabletops with pipeline operators to exercise their security plans and to strengthen working relationships among the industry and government partners. All of TSA's I-STEP exercises with pipeline operators have been focused on critical infrastructure protection and preventing security incidents—not emergency response or recovery from an act of sabotage. Responsibility for an act of pipeline sabotage would be the FBI's for the investigation and DOT's Office of Pipeline Safety for the repair and restoration of the pipeline."
Cooper also suggested that the public would be well-served if the TSA and pipeline operator completed safety and security assessments of its own. In April 2010, the TSA testified before Congress that "joint U.S.- Canadian teams have reviewed six of the largest pipeline systems, or approximately 25 percent of the total cross-border systems." Did these include any segments of the Keystone network? No. "TransCanada's Keystone network was not operational when TSA was still doing cross border pipeline assessments and has not been assessed as part of this program. The last cross border pipeline assessment was in 2008."
Some observers have responded to Cooper's report by dismissing it as a PR stunt (which it most definitely is) or suggesting that the former commando's focus on the Keystone XL is misplaced because there are thousands of miles of unpatrolled pipelines in North America. In an interview, Cooper readily acknowledged that the threat he observed was not unique to the completed Keystone I. He also said he understood that he'd be fueling a highly political debate.
"I don't have a position on the pipeline one way or another," Cooper said. "However, if we do have time to gather more information, and we do, I think it's incumbent upon us to do so." Ignoring the risks, he added, "gets back to a habit of ours—perhaps a human habit—to be reactive, not proactive. And I will say that if I'd have done this assessment and it showed that the pipeline is very secure—in other words,  it's not susceptible to intentional damage—I might not be sitting here in a NextGen office talking to you. But I would have made sure that that information still got to the State Department somehow, someway. But what I found was the exact opposite: It's a vulnerable target."
Before it's here, it's on the Bloomberg Terminal.
LEARN MORE